This chapter template is included in every Proposal Pack along with thousands more chapter templates.
Order and download for $79.

DOWNLOADABLE, ONE-TIME COST, NO SUBSCRIPTION FEES
Use the Natural Disasters template to discuss the issue of natural disasters. A natural disaster might be any situation that results from nature, such as floods, extreme wind, tornados, hurricanes, earthquakes, lightning strikes, and so forth. Most businesses need to create a plan for natural disasters, which can disrupt transportation, power, and communications for days.
I love the suggestions for what to write. That's really helpful to have something for proposal writing rather than a blank space."
Caroline Bogart
Produced by:
Proposal Kit
Category:
Software › Computer Software › Business & Productivity Software

4.9 stars, based on
824 reviews
Related chapters may be used in conjunction with this chapter depending on your situation. Many related chapters are intended to be used together to form a more complex and integrated proposal.

Related Chapters:
This template is illustrated in actual use in the following Sample Proposals. Samples are also included in each Proposal Pack and illustate many of the industries and situations this template can be used for: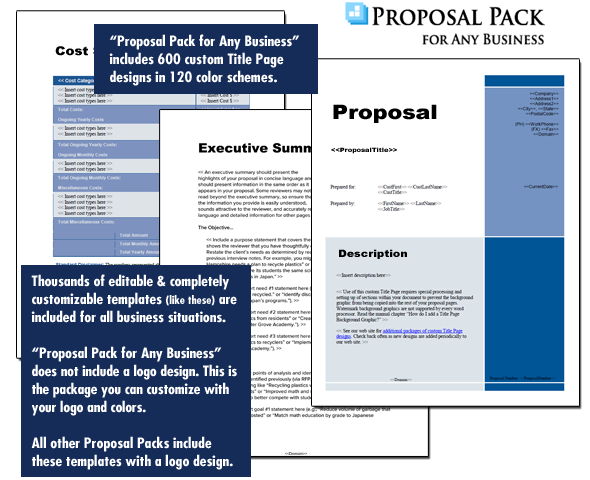 A proper business proposal will include multiple chapters. This is just one of many chapters that may be included in your proposal. The complete fill-in-the-blank template is included in our Proposal Pack template collections. A variety of sample proposals illustrating how companies in different industries both large and small have written proposals using our Proposal Packs are also included. This template will show you how to write the Natural Disasters.
A wide variety of chapters are included and are intended to be picked based on your needs. All proposals are different and have different needs and goals. Pick the collection of chapters from our collection and organize them as needed for your proposal. Recommendations and samples provided are only intended as general guidelines.
Using the Proposal Pack template library you can create any kind of business proposal, report, study, plan or document
such as these
.
How to write my Natural Disasters document
Use this template to discuss the issue of natural disasters. natural disaster might be any situation that results from nature such as floods extreme wind tornados hurricanes earthquakes lightning strikes and so forth. Most businesses need to create plan for natural disasters which can disrupt transportation power and communications for days. You might use this page to explain how natural disasters would be dealt with during the course of project or to describe your organization's policy about dealing with natural disasters in general. Describe the problem of natural disasters and discuss their importance to your project or your organization. For example are you working in known earthquake or flood zone. Can strong winds or heavy rain or snow halt your construction project. Explain the issues you want to discuss regarding natural disasters and make recommendations if appropriate. Refer readers to other parts of your document for details. Proposal Pack contains Disaster Recovery Plan template that should be used to create plan for dealing with situations that disrupt business.
A Document from Proposal Pack

The editable Natural Disasters template - complete with the actual formatting, layout and graphics is available in the retail Proposal Packs.