This chapter template is included in every Proposal Pack along with thousands more chapter templates.
Order and download for $79.

DOWNLOADABLE, ONE-TIME COST, NO SUBSCRIPTION FEES
Use the Presentation template to describe your plans for doing any sort of presentation. This topic will probably be used most often to provide details for a formal presentation of a proposal to a business client.
I purchased Proposal Kit for Windows several years ago and love it."
Darrell Spencer
CyberArts Interactive
Produced by:
Proposal Kit
Category:
Software › Computer Software › Business & Productivity Software

4.9 stars, based on
837 reviews
Related chapters may be used in conjunction with this chapter depending on your situation. Many related chapters are intended to be used together to form a more complex and integrated proposal.

Related Chapters: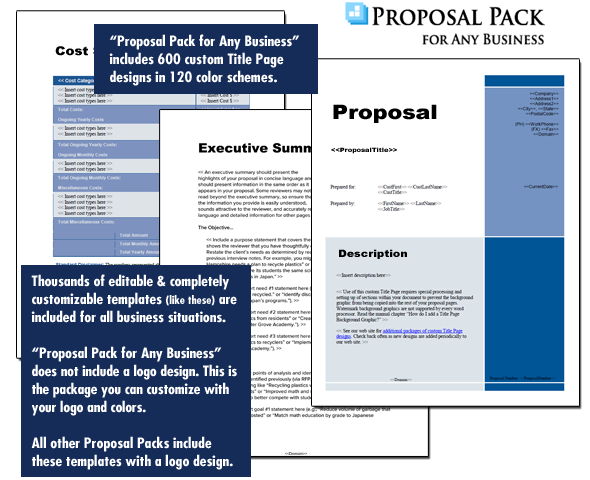 A proper business proposal will include multiple chapters. This is just one of many chapters that may be included in your proposal. The complete fill-in-the-blank template is included in our Proposal Pack template collections. A variety of sample proposals illustrating how companies in different industries both large and small have written proposals using our Proposal Packs are also included. This template will show you how to write the Presentation.
A wide variety of chapters are included and are intended to be picked based on your needs. All proposals are different and have different needs and goals. Pick the collection of chapters from our collection and organize them as needed for your proposal. Recommendations and samples provided are only intended as general guidelines.
Using the Proposal Pack template library you can create any kind of business proposal, report, study, plan or document
such as these
.
How do you write a Presentation document?
Use this template to describe your plans for doing any sort of presentation. This topic will probably be used most often to provide details for formal presentation of proposal to business client. Our plans for the presentation are as follows. Presentation Format Insert description of the general format you plan to follow for your presentation. For example will it take place before formal group such as in conference room or before corporate board. Will it take place via video conference over network. Will it take place on stage in studio or even outdoors. Presentation Materials Needed
Describe all the materials needed for the presentation. For example do you need notebooks for all attendees. Charts special exhibits scale models. DVDs. Videos. Computers projectors specialized software power cords cables microphones speakers. List everything you need to make your presentation success. Presenters Explain who will do the presentation. Is it one person or whole team. Will other team members attend as support personnel or technical assistants. Order of Presentation If you have multiple types of information to present describe the order in which you intend to present the information and who is responsible for each piece. Additional Information Insert any other details the reader needs to know about the presentation. For example you may want to discuss tasks that must be accomplished before or after the presentation transportation communication or scheduling details that must be finalized expectations for dress or behavior and so forth.
A Document from Proposal Pack

The editable Presentation template - complete with the actual formatting, layout and graphics is available in the retail Proposal Packs.