This chapter template is included in every Proposal Pack along with thousands more chapter templates.
Order and download for $79.

DOWNLOADABLE, ONE-TIME COST, NO SUBSCRIPTION FEES
Use the Venue template to describe a location you plan to use for an upcoming event or to describe your requirements for an event venue.
I really like your products and hope to continue to use them in the future."
Jose Vega
Produced by:
Proposal Kit
Category:
Software › Computer Software › Business & Productivity Software

4.9 stars, based on
830 reviews
Related chapters may be used in conjunction with this chapter depending on your situation. Many related chapters are intended to be used together to form a more complex and integrated proposal.
Related Chapters:
This template is illustrated in actual use in the following Sample Proposals. Samples are also included in each Proposal Pack and illustate many of the industries and situations this template can be used for: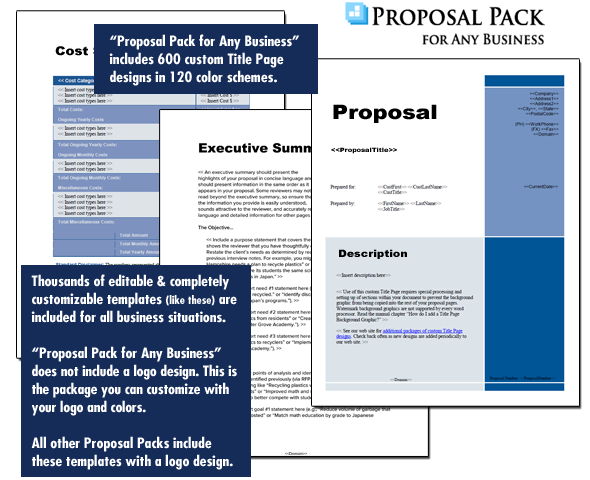 A proper business proposal will include multiple chapters. This is just one of many chapters that may be included in your proposal. The complete fill-in-the-blank template is included in our Proposal Pack template collections. A variety of sample proposals illustrating how companies in different industries both large and small have written proposals using our Proposal Packs are also included. This template will show you how to write the Venue.
A wide variety of chapters are included and are intended to be picked based on your needs. All proposals are different and have different needs and goals. Pick the collection of chapters from our collection and organize them as needed for your proposal. Recommendations and samples provided are only intended as general guidelines.
Using the Proposal Pack template library you can create any kind of business proposal, report, study, plan or document
such as these
.
How to write my Venue document
Use this template to describe location you plan to use for an upcoming event or to describe your requirements for an event venue. Introduce the purpose of this document here. General Description Provide general description of an existing location or describe your needs in general. For example you might say " We have reserved Meeting Rooms C in the Belletown Conference Centre at Main Street" or " We need space for our Thermodynamics Conference on January 10. " Capacity
Describe the number of people that the facility can legally hold or that you must accommodate. You may need to make this room by room description. Layout For an existing venue describe the general layout of the venue including electrical outlets if lighting and sound systems furniture arrangements restrooms ability to have food service etc. You might want to include graphic here showing the venue layout. If you are searching for venue describe your needs for all these items. Accessibility Describe how the existing venue accommodates those with special needs wheelchairs aids for blind or deaf etc. or if searching for venue describe your needs. Transportation For an existing venue describe the methods attendees can use to get to and from the venue as well as any restrictions on parking or travel times etc. If youre searching for venue describe your transportation needs.
Additional Information Provide any needed additional information here such as schedule budgetary limitations total costs food service details restrictions on entrance dress code and so forth. Web site domain URL
A Document from Proposal Pack

The editable Venue template - complete with the actual formatting, layout and graphics is available in the retail Proposal Packs.