This chapter template is included in every Proposal Pack along with thousands more chapter templates.
Order and download for $79.

DOWNLOADABLE, ONE-TIME COST, NO SUBSCRIPTION FEES
Use the Production Plan template to describe your plan for how your project will be completed or how your product will be produced.
Proposal Kit has helped me to organize and prioritize my presentation/proposals. I have used it many times and have secured several projects. I am using it to secure projects and financial backing in agricultural product R&D."
Dave Sills
Produced by:
Proposal Kit
Category:
Software › Computer Software › Business & Productivity Software

4.9 stars, based on
830 reviews
Related chapters may be used in conjunction with this chapter depending on your situation. Many related chapters are intended to be used together to form a more complex and integrated proposal.

Related Chapters: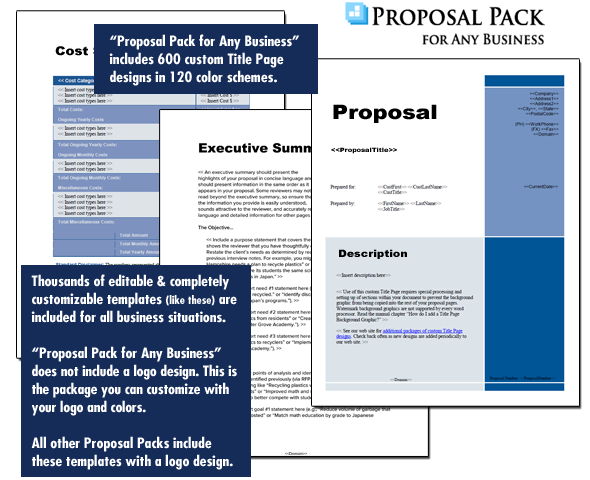 A proper business proposal will include multiple chapters. This is just one of many chapters that may be included in your proposal. The complete fill-in-the-blank template is included in our Proposal Pack template collections. A variety of sample proposals illustrating how companies in different industries both large and small have written proposals using our Proposal Packs are also included. This template will show you how to write the Production Plan.
A wide variety of chapters are included and are intended to be picked based on your needs. All proposals are different and have different needs and goals. Pick the collection of chapters from our collection and organize them as needed for your proposal. Recommendations and samples provided are only intended as general guidelines.
Using the Proposal Pack template library you can create any kind of business proposal, report, study, plan or document
such as these
.
Writing the Production Plan document
Use the Production Plan template to describe your plan for how your project will be completed or how your product will be produced. production plan typically includes the following information. a list of materials needed along with who will supply those materials; list of equipment and personnel needed and description of who will perform which function. You may also choose to include variety of other important details such as how many units can be produced per hour and how many shifts are needed to meet the deadline and so forth. A simple project or product may have simple production plan. For example to produce printed manuals for an educational course you might need original manual pages that can be inserted into copier copier that can produce double sided copies and machine that can produce comb binding for each manual and one person to oversee the copying and binding process and deliver the finished manuals. more complex project will have more complex production plan. for example to produce washing machines you will have long list of parts and suppliers and assembly personnel. Project Product Order Name or Number Materials Needed. List necessary materials and supplier names here. Equipment Needed. List necessary equipment here. Personnel Needed for Production. List needed personnel here. Be sure to name subcontractors and jobs that will be done out of house as well as in house personnel. Schedule Considerations. List any important date considerations here such as holidays when personnel or dates when equipment will be unavailable deadlines by which materials have to be on site or when finished products must ship and so forth.
A Document from Proposal Pack

The editable Production Plan template - complete with the actual formatting, layout and graphics is available in the retail Proposal Packs.