This chapter template is included in every Proposal Pack along with thousands more chapter templates.
Order and download for $79.

DOWNLOADABLE, ONE-TIME COST, NO SUBSCRIPTION FEES
Use the Productivity template to describe your productivity goals and how you propose to stimulate and measure productivity within an organization.
Greatly appreciate the fast response - I'll check it all out. I'm re-building my account management system at the moment and finding it all (the kit) a fantastic help."
Jason West
Produced by:
Proposal Kit
Category:
Software › Computer Software › Business & Productivity Software

4.9 stars, based on
830 reviews
Related chapters may be used in conjunction with this chapter depending on your situation. Many related chapters are intended to be used together to form a more complex and integrated proposal.

Related Chapters: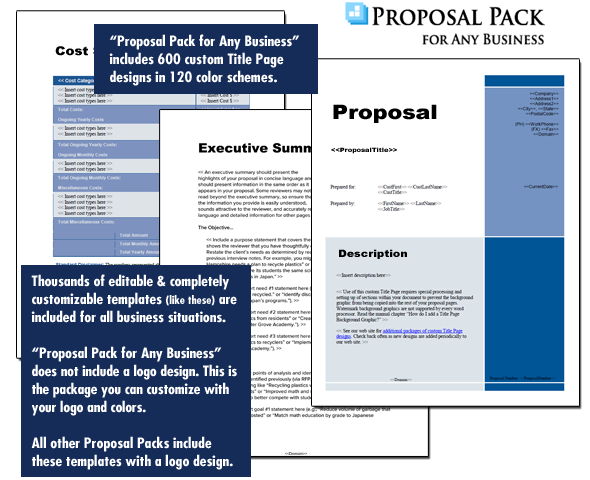 A proper business proposal will include multiple chapters. This is just one of many chapters that may be included in your proposal. The complete fill-in-the-blank template is included in our Proposal Pack template collections. A variety of sample proposals illustrating how companies in different industries both large and small have written proposals using our Proposal Packs are also included. This template will show you how to write the Productivity.
A wide variety of chapters are included and are intended to be picked based on your needs. All proposals are different and have different needs and goals. Pick the collection of chapters from our collection and organize them as needed for your proposal. Recommendations and samples provided are only intended as general guidelines.
Using the Proposal Pack template library you can create any kind of business proposal, report, study, plan or document
such as these
.
How do you write a Productivity document?
Use the Productivity template to describe your productivity goals and how you propose to stimulate and measure productivity within an organization. To describe actual steps in production process that need to be monitored use the Production Schedule template. Productivity Goals Discuss your goals for productivity. These might be numbers of products produced or shipped on daily or weekly basis number of sales made number of phone calls answered etc. Productivity Measurements
Describe the measurements you will use to judge productivity. These need to be something quantifiable such as daily or weekly count of products produced or shipped number of sales made or reports of revenue coming in. State how each measurement is conducted and who is responsible for gathering and presenting the productivity data. List any dependencies such as shipments from suppliers weather etc. that could affect your productivity. Incentives to Improve Productivity List any incentives you offer for increased productivity such as bonuses and awards to employees. Include the reasoning behind the incentive and the cost of the incentive. If the incentives have been used in the past include the history of how they have worked. Implications of Decreased Productivity List any risks associated with decreased productivity such as the inability to fulfill specific contract. List also any minimum acceptable levels of productivity and any penalties associated with those such as firing of unproductive
A Document from Proposal Pack

The editable Productivity template - complete with the actual formatting, layout and graphics is available in the retail Proposal Packs.