This chapter template is included in every Proposal Pack along with thousands more chapter templates.
Order and download for $79.

DOWNLOADABLE, ONE-TIME COST, NO SUBSCRIPTION FEES
The Profile template is used to describe a general profile. This may be used in government grants to display information similar to the grant Cover Sheet.
Everyone at our national headquarters (Kinko's, too) wanted to know "who" did the business proposal layout. I told them proposalkit.com! I don't know what I would have done without Proposal Kit. I had a massive brain freeze and couldn't design my way out of a clear plastic bag."
Kristen Howell
American Red Cross of Florida
Produced by:
Proposal Kit
Category:
Software › Computer Software › Business & Productivity Software

4.9 stars, based on over
700 reviews
This template is illustrated in actual use in the following Sample Proposals. Samples are also included in each Proposal Pack and illustate many of the industries and situations this template can be used for: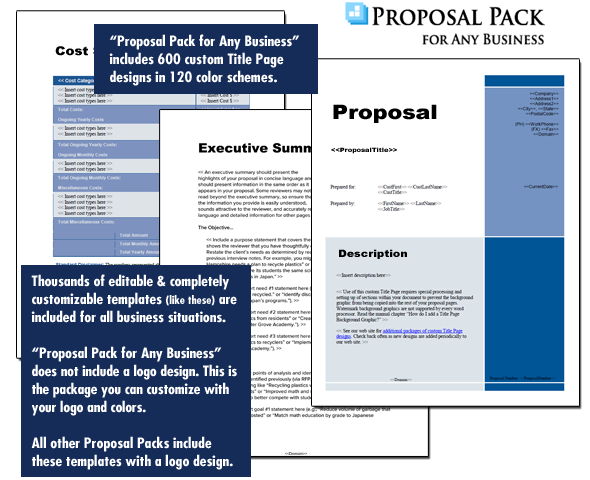 A proper business proposal will include multiple chapters. This is just one of many chapters that may be included in your proposal. The complete fill-in-the-blank template is included in our Proposal Pack template collections. A variety of sample proposals illustrating how companies in different industries both large and small have written proposals using our Proposal Packs are also included. This template will show you how to write the Profile.
A wide variety of chapters are included and are intended to be picked based on your needs. All proposals are different and have different needs and goals. Pick the collection of chapters from our collection and organize them as needed for your proposal. Recommendations and samples provided are only intended as general guidelines.
Using the Proposal Pack template library you can create any kind of business proposal, report, study, plan or document
such as these
.
How to write my Profile document
Applicant Organization. Company name Project Director. Insert name of the project director. Address. Address Address2 City State or province Zip or postal code Phone. Phone number Fax. Fax number Email. E mail address Project Job title of signator authorized signature or signer. ProjectTitle Insert any other details about your company and the project that are required by the RFP.
A Document from Proposal Pack

The editable Profile template - complete with the actual formatting, layout and graphics is available in the retail Proposal Packs.