This chapter template is included in every Proposal Pack along with thousands more chapter templates.
Order and download for $79.

DOWNLOADABLE, ONE-TIME COST, NO SUBSCRIPTION FEES
The Project Initiation template is used to outline issues related to getting a project started.
I thought Proposal Pack was as good as it gets - until... I use Proposal Pack Wizard on a daily and it truly multiplies the time savings already realized in the regular Proposal Pack. My company thinks that I am a proposal creating machine! Little do they know that I work far less hours now than at any other time in my life and get 10 times the work done. If you want to fully understand the phrase, "Work smarter - not harder" then purchase Proposal Pack Wizard to accompany whichever version of Proposal Pack you choose - and work half as much for twice the reward."
Kevin Tart
Produced by:
Proposal Kit
Category:
Software › Computer Software › Business & Productivity Software

4.9 stars, based on
830 reviews
Related chapters may be used in conjunction with this chapter depending on your situation. Many related chapters are intended to be used together to form a more complex and integrated proposal.

Related Chapters: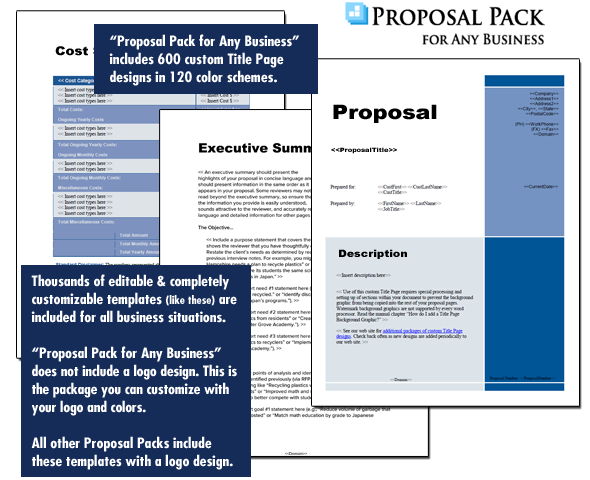 A proper business proposal will include multiple chapters. This is just one of many chapters that may be included in your proposal. The complete fill-in-the-blank template is included in our Proposal Pack template collections. A variety of sample proposals illustrating how companies in different industries both large and small have written proposals using our Proposal Packs are also included. This template will show you how to write the Project Initiation.
A wide variety of chapters are included and are intended to be picked based on your needs. All proposals are different and have different needs and goals. Pick the collection of chapters from our collection and organize them as needed for your proposal. Recommendations and samples provided are only intended as general guidelines.
Using the Proposal Pack template library you can create any kind of business proposal, report, study, plan or document
such as these
.
Writing the Project Initiation document
Before the project can be initiated the following tasks must be completed. Describe in general what has been accomplished and what still needs to be accomplished. Project initiation can be complex process. For proposal purposes you do not have to completely outline the project management details. Simply summarize the most important considerations for beginning the project. Research. Describe any research or studies that must be completed or analyzed prior to starting the project. Funding. Describe any additional funding that must be secured or monies that must be transferred before beginning the project. Paperwork. Describe any paperwork that must be completed including contracts to be finalized permits to acquire schedules to be set down report templates to be created etc.
Personnel. Describe any personnel assignments to be finalized. If you must locate or hire new personnel describe how and when you propose to do that. Schedule. Describe any remaining schedule issues to be worked out. Site Preparation. If you must locate site for the project or prepare an existing site in some way describe that here.
Equipment Tools. Describe any equipment or tools that must be acquired or relocated prior to starting the project. Other. Describe any other events that may affect the start date for the project. This could be the purchase or delivery of certain supplies awaiting good weather conditions for outdoor work training of personnel in certain procedures etc.
A Document from Proposal Pack

The editable Project Initiation template - complete with the actual formatting, layout and graphics is available in the retail Proposal Packs.