This chapter template is included in every Proposal Pack along with thousands more chapter templates.
Order and download for $79.

DOWNLOADABLE, ONE-TIME COST, NO SUBSCRIPTION FEES
Use the Purchasing template to describe your purchasing process and strategy.
The Proposal Pack Wizard works hand in hand with the Proposal Kit Professional to streamline the process. It turns your proposal into a fill in the content and then prepares and formats everything automatically. I used it in medical proposals and federal grants. Works great."
Enrique Martinez
Medical Doctorate at UPR School of Medicine
Puerto Rico
Produced by:
Proposal Kit
Category:
Software › Computer Software › Business & Productivity Software

4.9 stars, based on
824 reviews
Alternate chapters are those which may be used instead of this chapter depending on your situation. Alternate chapters may be better suited for different size projects, more specialized projects, variations on rights, etc.

Alternate Chapters:
Related chapters may be used in conjunction with this chapter depending on your situation. Many related chapters are intended to be used together to form a more complex and integrated proposal.

Related Chapters: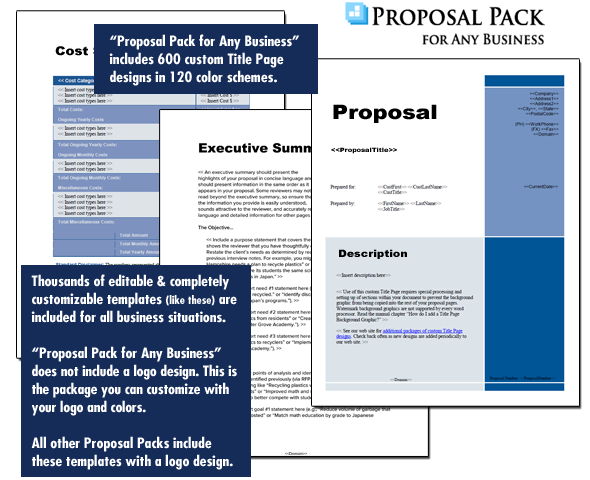 A proper business proposal will include multiple chapters. This is just one of many chapters that may be included in your proposal. The complete fill-in-the-blank template is included in our Proposal Pack template collections. A variety of sample proposals illustrating how companies in different industries both large and small have written proposals using our Proposal Packs are also included. This template will show you how to write the Purchasing.
A wide variety of chapters are included and are intended to be picked based on your needs. All proposals are different and have different needs and goals. Pick the collection of chapters from our collection and organize them as needed for your proposal. Recommendations and samples provided are only intended as general guidelines.
Using the Proposal Pack template library you can create any kind of business proposal, report, study, plan or document
such as these
.
Writing the Purchasing document
Strategic and efficient purchasing is key to the success of this project. We propose to use the following purchasing process to acquire the goods and services we need. Use the Purchasing template to describe your purchasing process and strategy. For specific purchase you may want to use the Purchase Order template. Purchasing processes vary from organization to organization but all are variations on standard process that starts with demand for product or service. The purchasing department then generates some sort of description or requisition for that item which is disseminated to appropriate suppliers who generate bids or offers. Then the purchasing department selects and contracts with specific supplier. The overall process can be quite simple with decisions made by one or two individuals with just few phone calls. Or as in the case of governments or large organizations the process may be quite complex involving extensive written requirements and requests for proposals or for quotes RFQs followed by reviews of responses to those requests and documented selection process before purchase order is generated. General Purchasing Strategy Describe your general purchasing strategy here. For example you may always purchase based on lowest price and you may schedule purchases on regular basis such as monthly or quarterly. You may have the ability to warehouse surplus items or you may purchase only immediately before items are needed. Some purchasing systems are at least partially automated and tied to computerized inventory system that tracks incoming and outgoing merchandise. Purchasing Process Describe your process here. Be sure to describe each step in the process starting with how demand is documented and ending with how supplier is contracted. Name responsible parties or business groups required forms dates and any other important details. Different types of goods or services may require different purchasing processes. You may want to include chart or other diagram here to illustrate these processes.
A Document from Proposal Pack

The editable Purchasing template - complete with the actual formatting, layout and graphics is available in the retail Proposal Packs.