This chapter template is included in every Proposal Pack along with thousands more chapter templates.
Order and download for $79.

DOWNLOADABLE, ONE-TIME COST, NO SUBSCRIPTION FEES
Use this page to explain the importance of resettlement within the context of this proposal. For example, are you responding to the need or projected need to resettle a population due to a crisis such as a civil war or environmental disaster.
I've used Proposal Pack regularly for making out multi-million dollar electricity proposals. It is easy to use and works great."
Tim Leigh
American Powernet
Produced by:
Proposal Kit
Category:
Software › Computer Software › Business & Productivity Software

4.9 stars, based on
837 reviews
Related chapters may be used in conjunction with this chapter depending on your situation. Many related chapters are intended to be used together to form a more complex and integrated proposal.

Related Chapters: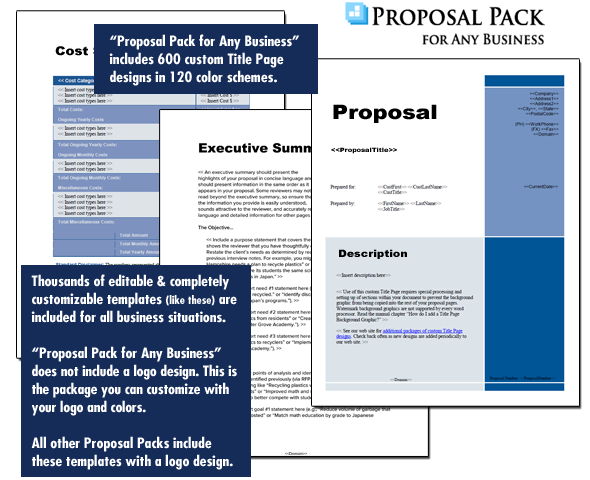 A proper business proposal will include multiple chapters. This is just one of many chapters that may be included in your proposal. The complete fill-in-the-blank template is included in our Proposal Pack template collections. A variety of sample proposals illustrating how companies in different industries both large and small have written proposals using our Proposal Packs are also included. This template will show you how to write the Resettlement.
A wide variety of chapters are included and are intended to be picked based on your needs. All proposals are different and have different needs and goals. Pick the collection of chapters from our collection and organize them as needed for your proposal. Recommendations and samples provided are only intended as general guidelines.
Using the Proposal Pack template library you can create any kind of business proposal, report, study, plan or document
such as these
.
Writing the Resettlement document
Explain the importance of resettlement within the context of this proposal. For example are you responding to the need or projected need to resettle population due to crisis such as civil war or environmental disaster. The Need for Resettlement Describe why resettlement is required. You may need to explain the current situation or the expected situation numbers and types of people to be resettled etc. Important Issues Describe the issues that must be considered for resettling. For example what must happen before population is moved. What is the proposed schedule. Who must be consulted. What conflicts or complications are expected. Who will pay the costs of resettlement. Will resettlement be permanent or temporary.
Additional Information Describe any other pertinent details associated with the topic of resettlement in the context of this proposal and refer to other pages as needed to explain specific steps that must be taken for successful resettlement. If you are requesting input about resettlement plans provide contact information and specify any deadlines so your readers can easily provide comments.
A Document from Proposal Pack

The editable Resettlement template - complete with the actual formatting, layout and graphics is available in the retail Proposal Packs.