Use this template to create a description of a severance package being offered, or to discuss the issue of using a severance package to restructure or downsize a company. Provide background on why it is important to discuss a severance package now, and then write an introduction to the proposed elements of a severance package shown.
purchased a proposal template pack and was very impressed. We are a business consulting firm and found that your proposal software package could easily be adapted to address the unique needs we have as a consultant."
Todd C. David
Produced by:
Proposal Kit
Category:
Software > Computer Software > Business & Productivity Software

4.9 stars, based on over
700 reviews
Related chapters may be used in conjunction with this chapter depending on your situation. Many related chapters are intended to be used together to form a more complex and integrated proposal.

Related Chapters: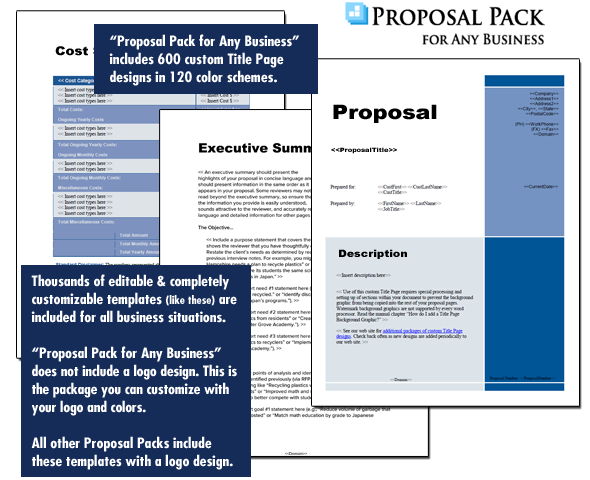 A proper business proposal will include multiple chapters. This is just one of many chapters that may be included in your proposal. The complete fill-in-the-blank template is included in our Proposal Pack template collections. A variety of sample proposals illustrating how companies in different industries both large and small have written proposals using our Proposal Packs are also included. This template will show you how to write the Severance.
A wide variety of chapters are included and are intended to be picked based on your needs. All proposals are different and have different needs and goals. Pick the collection of chapters from our collection and organize them as needed for your proposal. Recommendations and samples provided are only intended as general guidelines.
Using the Proposal Pack template library you can create any kind of business proposal, report, study, plan or document
such as these
.
How to write my Severance document
Use this template to create description of severance package being offered or to discuss the issue of using severance package to restructure or downsize company. Provide background on why it is important to discuss severance package now and then write an introduction to the proposed elements of severance package shown below. Severance Payment Amount The amount of severance payout is often described as percentage of the employees typical salary. Describe any important details about this severance payment such as how and when it will be paid. Severance Benefits Describe any benefits health care insurance gifts of stock etc. that the employee will receive in addition to the severance payment. Severance Agreement Insert the legal contract language that the employee must sign to receive the severance package described above. Summary
Insert summary of the discussion presented above and then write " call to action " asking the employee to consider the severance package or asking other readers to provide feedback on the proposed severance package. Provide contact and deadline information as appropriate.
A Document from Proposal Pack

The editable Severance template - complete with the actual formatting, layout and graphics is available in the retail Proposal Packs.