This chapter template is included in every Proposal Pack along with thousands more chapter templates.
Order and download for $79.

DOWNLOADABLE, ONE-TIME COST, NO SUBSCRIPTION FEES
Use the Synthesis Statement template to describe how you are using sources to support your ideas. This might be an explanation of your understanding of a topic based on exploring a variety of sources; or it might be a statement of your point of view as supported by a variety of sources.
I got this to write a proposal and I ended up also needing a business plan. So instead of renewing my business plan pro program I looked at this software. It was intuitive and easy to follow with lots of directions. The main learning curve has to do with using the software properly, just read the directions and it all works smoothly. It makes me look like I have a big team behind my small company! So many choices that I have little to do but fill in the blanks."
Sybil Rosado
Digitized Social Research Solutions
Produced by:
Proposal Kit
Category:
Software › Computer Software › Business & Productivity Software

4.9 stars, based on
812 reviews
Related chapters may be used in conjunction with this chapter depending on your situation. Many related chapters are intended to be used together to form a more complex and integrated proposal.

Related Chapters: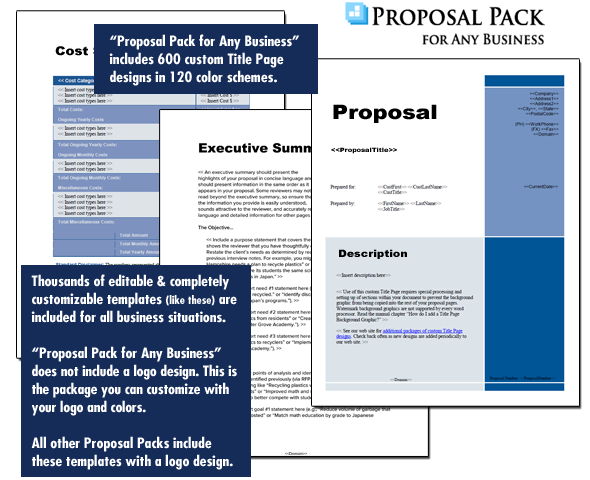 A proper business proposal will include multiple chapters. This is just one of many chapters that may be included in your proposal. The complete fill-in-the-blank template is included in our Proposal Pack template collections. A variety of sample proposals illustrating how companies in different industries both large and small have written proposals using our Proposal Packs are also included. This template will show you how to write the Synthesis Statement.
A wide variety of chapters are included and are intended to be picked based on your needs. All proposals are different and have different needs and goals. Pick the collection of chapters from our collection and organize them as needed for your proposal. Recommendations and samples provided are only intended as general guidelines.
Using the Proposal Pack template library you can create any kind of business proposal, report, study, plan or document
such as these
.
How to write my Synthesis Statement document
Use this template to describe how you are using sources to support your ideas. This might be an explanation of your understanding of topic based on exploring variety of sources; or it might be statement of your point of view as supported by variety of sources. Thesis Introduce your topic and summarize your basic thesis or argument here. In other words what are you trying to convince your readers of. Discussion Describe how you went about developing this thesis. You can organize this discussion by listing an idea or criteria first and then describing how one or more sources support this idea; or by describing one or more sources first and then explaining the viewpoints of these sources. You might also compare and contrast sources.
Conclusion Add summary statement here about whether your sources fully supported your argument and whether or not more research is needed. Sources List your sources here in proper citation format. Web site domain URL
A Document from Proposal Pack

The editable Synthesis Statement template - complete with the actual formatting, layout and graphics is available in the retail Proposal Packs.