This chapter template is included in every Proposal Pack along with thousands more chapter templates.
Order and download for $79.

DOWNLOADABLE, ONE-TIME COST, NO SUBSCRIPTION FEES
Use the Tutoring template to describe any sort of tutoring program in which a more advanced individual helps a less advanced person learn.
I purchased proposal pack some years back when i was asked at work to write a proposal to implement a new program at work. Document was well received and I was even asked to present it to the president of the company. It saved me lots of time and removed all the guess work. I've been an avid user for about 3 years now and would still recommend it to anyone."
Kay Fakunle
Business executive - Operations Management, Business Development and Entrepreneurial Leadership
Produced by:
Proposal Kit
Category:
Software › Computer Software › Business & Productivity Software

4.9 stars, based on
830 reviews
Alternate chapters are those which may be used instead of this chapter depending on your situation. Alternate chapters may be better suited for different size projects, more specialized projects, variations on rights, etc.

Alternate Chapters:
Related chapters may be used in conjunction with this chapter depending on your situation. Many related chapters are intended to be used together to form a more complex and integrated proposal.

Related Chapters: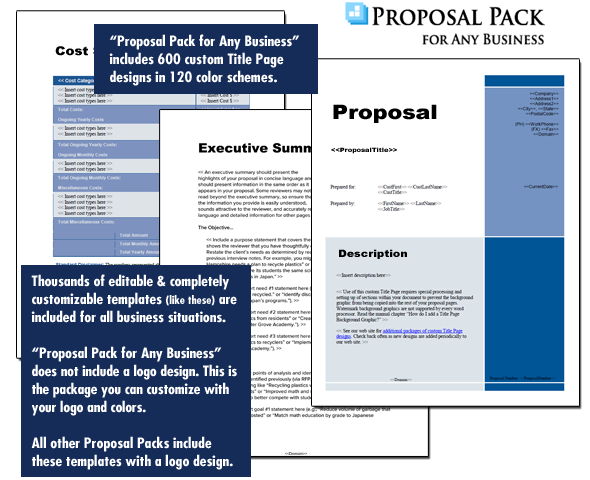 A proper business proposal will include multiple chapters. This is just one of many chapters that may be included in your proposal. The complete fill-in-the-blank template is included in our Proposal Pack template collections. A variety of sample proposals illustrating how companies in different industries both large and small have written proposals using our Proposal Packs are also included. This template will show you how to write the Tutoring.
A wide variety of chapters are included and are intended to be picked based on your needs. All proposals are different and have different needs and goals. Pick the collection of chapters from our collection and organize them as needed for your proposal. Recommendations and samples provided are only intended as general guidelines.
Using the Proposal Pack template library you can create any kind of business proposal, report, study, plan or document
such as these
.
How to write my Tutoring document
Use the Tutoring template to describe any sort of tutoring program in which more advanced individual helps less advanced person learn. For example many education institutions offer tutors to students who may be struggling with classes for variety of reasons. Sometimes older students tutor younger ones and sometimes individuals offer tutoring as way to earn living. Explain the importance of tutoring in the context of your proposal. Are you trying to solve an identified problem such as high dropout rate or large percentage of immigrant students who dont understand the language well. Do you have specific goal to meet. Explain how the tutoring process will work. Questions to answer are. What are the qualifications of the tutors. How will matches between tutors and students be arranged. What are each partys responsibilities and how will each party be informed of those responsibilities. Is there schedule for tutoring sessions. Where will tutoring sessions take place. What is the cost of tutoring session. What will happen if tutor student match isnt working to the satisfaction of both parties.
A Document from Proposal Pack

The editable Tutoring template - complete with the actual formatting, layout and graphics is available in the retail Proposal Packs.