This chapter template is included in every Proposal Pack along with thousands more chapter templates.
Order and download for $79.

DOWNLOADABLE, ONE-TIME COST, NO SUBSCRIPTION FEES
Use this page to create a technical topic on uptime (operational time) for computer hardware, connection services, etc. This page could describe a company's average uptime or uptime policy or describe their past history. This page could also be used to state a minimum uptime requirement in the specifications of an RFP or of a client looking for a service provider.
I have been using this fantastic business tool for over three years now, It has provided me with everything to keep up with timely submission of very important proposals and most importantly keep me on top of deadlines."
Daniel Baba
Euan, Inc.
Produced by:
Proposal Kit
Category:
Software › Computer Software › Business & Productivity Software

4.9 stars, based on
824 reviews
Related chapters may be used in conjunction with this chapter depending on your situation. Many related chapters are intended to be used together to form a more complex and integrated proposal.

Related Chapters: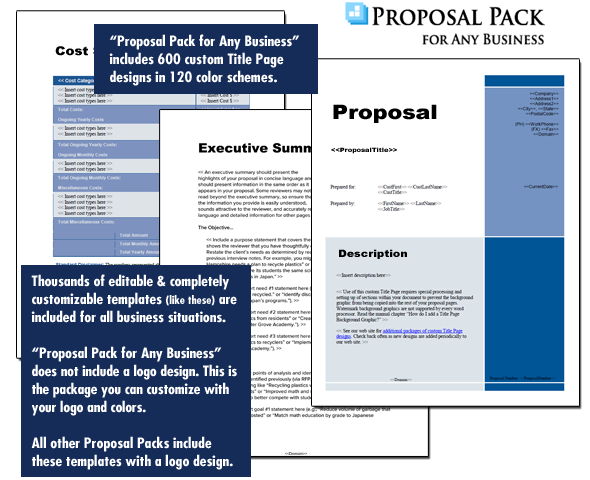 A proper business proposal will include multiple chapters. This is just one of many chapters that may be included in your proposal. The complete fill-in-the-blank template is included in our Proposal Pack template collections. A variety of sample proposals illustrating how companies in different industries both large and small have written proposals using our Proposal Packs are also included. This template will show you how to write the Uptime.
A wide variety of chapters are included and are intended to be picked based on your needs. All proposals are different and have different needs and goals. Pick the collection of chapters from our collection and organize them as needed for your proposal. Recommendations and samples provided are only intended as general guidelines.
Using the Proposal Pack template library you can create any kind of business proposal, report, study, plan or document
such as these
.
Writing the Uptime document
Use this page to create technical topic on uptime operational for computer hardware connection services etc. This page could describe companys average uptime or uptime policy or describe their past history. This page could also be used to state minimum uptime requirement in the specifications of an RFP or of client looking for service provider. Define what you mean by " uptime" and explain its importance in the context of this document. Average Uptime Describe the average operational time during specific time period per year per month etc. or specify an uptime requirement. Explain how uptime will be measured. Conditions Triggered by Downtime Describe what will happen in the event that the system goes down. If the minimum uptime requirement is not met are there monetary penalties due to customers or contractual clauses that will be activated. Note that Proposal Pack includes Downtime template you may want to use for an in depth discussion of what happens when system goes offline. Additional Information
Provide any other information you feel it is important for the reader to know about uptime. Refer readers to other pages in your document as appropriate.
A Document from Proposal Pack

The editable Uptime template - complete with the actual formatting, layout and graphics is available in the retail Proposal Packs.