This chapter template is included in every Proposal Pack along with thousands more chapter templates.
Order and download for $79.

DOWNLOADABLE, ONE-TIME COST, NO SUBSCRIPTION FEES
Use this template to describe the interconnections of any system. You might use it to describe a social network, a professional network, a computer network, a supply network, or an energy grid network.
I have used the proposal kit for over 3 yrs. and I can only imagine how many hours I have saved. It increases my confidence and I get excited to know that an update is available. Thank You!"
Reverend Hilda Covington
SisterHood Incorporated
Pastor at Wayside Community Church
Produced by:
Proposal Kit
Category:
Software › Computer Software › Business & Productivity Software

4.9 stars, based on
837 reviews
Alternate chapters are those which may be used instead of this chapter depending on your situation. Alternate chapters may be better suited for different size projects, more specialized projects, variations on rights, etc.

Alternate Chapters:
Related chapters may be used in conjunction with this chapter depending on your situation. Many related chapters are intended to be used together to form a more complex and integrated proposal.

Related Chapters: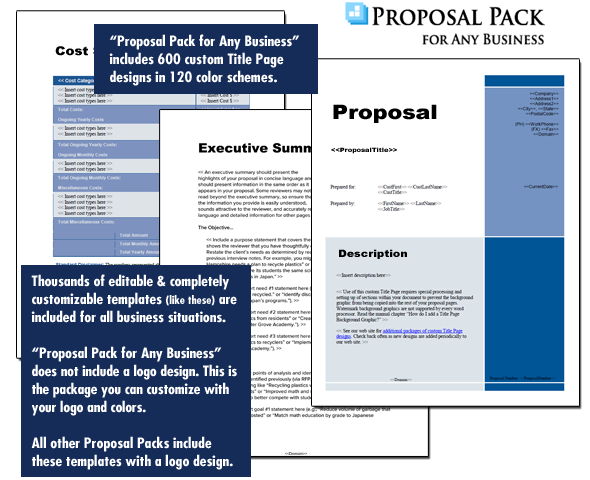 A proper business proposal will include multiple chapters. This is just one of many chapters that may be included in your proposal. The complete fill-in-the-blank template is included in our Proposal Pack template collections. A variety of sample proposals illustrating how companies in different industries both large and small have written proposals using our Proposal Packs are also included. This template will show you how to write the Networking.
A wide variety of chapters are included and are intended to be picked based on your needs. All proposals are different and have different needs and goals. Pick the collection of chapters from our collection and organize them as needed for your proposal. Recommendations and samples provided are only intended as general guidelines.
Using the Proposal Pack template library you can create any kind of business proposal, report, study, plan or document
such as these
.
How to write my Networking document
Use this template to describe the interconnections of any system. You might use it to describe social network professional network computer network supply network or an energy grid network. You could even describe how diseases spread or how cancer treatment works by looking at the human body as giant network. Introduce the purpose of this document here. For example you might say that you are documenting the physical and logical connections of your companys computer network for future reference and revision or that you intend to study the interconnections of the circulatory and respiratory system in rats to determine how new medicine is affecting the rats body as whole. General Description Describe in general the interconnected system and its purpose. For example " The ProBis Network is nationwide system of local groups connected via the internet for the purpose of advertising and promoting individual businesses throughout the United States" or " The Building computer network consists of workstations in Building linked through servers to the main corporate network which serves all buildings and all employees on the corporate campus. " You may find it useful to put diagram here to graphically show the network.
Components Describe the components of the network. For example you might describe individual computers power generation stations or social groups that are linked together. Links Describe the links or hubs that connect the components. Discussion Add any important notes about the network here. For example you might discuss the evolution of social network and its sociological significance the disruption risks you have pinpointed in supply network or an energy grid or the need to modify an existing network to ensure it can handle future growth.
A Document from Proposal Pack

The editable Networking template - complete with the actual formatting, layout and graphics is available in the retail Proposal Packs.