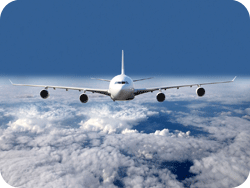 When many people first hear the word "aerospace," they think of jets and rockets, but the aerospace business is much more varied than that.
Specialized businesses maintain aircraft, design and manufacture interior components or aircraft navigation systems, supply parts for aircraft engines, program monitoring and guidance systems, and so forth. It's a long list.
If you're in one of these businesses, you know that each business deal is different because it requires customizing your product or service for a particular client or a particular aircraft. So unlike other businesses, you can't simply publish your catalog or mail your brochures and reel in thousands of clients. To land the deal, you need to write a business proposal.
If you are facing the prospect of writing your very first proposal, you might feel a bit overwhelmed. Relax. You already have most, if not all, of the information you need, because you know your business and what you have to offer. Writing a business proposal is a step-by-step process with a specific four-part sequence to follow, and the next paragraphs will show how this works.
Your very first task in preparation is to put yourself in your potential client's position. Consider that party's needs, requirements, limitations, and concerns. In other words, what questions will your potential client want you to answer? If you need to do some research to find out more about the client's business history or the goals for the proposed project, do that up front. Often you will have a Request for Proposal (RFP) in hand, or sometimes you can find the information you need on the potential client's corporate website. If you need clarification about anything, don't guess--call the potential client and ask.
After you feel that you understand the client's position, it's time to begin the Introduction section for your proposal. You'll start with a Cover Letter introducing yourself, explaining why you're submitting a proposal now, and supplying all your contact information. Next, create a Title Page. Simply name your proposal in a descriptive way. Examples might be "Proposal to Reconfigure Aircraft Interiors for the Smith Corporate Fleet," "How a Cabin Air System Upgrade Will Increase Passenger and Crew Satisfaction," or "Proposed Testing Program for the XZ-78 Jet Engine." That's all you need in the way of Introduction.
In the second section, you will describe the needs of your potential client and the requirements for the project. At the very least, you'll want a Needs Assessment page that describes what the client wants. You might also need pages like Goals and Objectives, Background, Concerns, Limitations, Budget, Scheduling, Options, Specifications, and so forth - include all the topics you need to show that you understand what your client is seeking.
In the third section, your task is to describe in detail what you are offering to do and what it will cost, keeping in mind that your goal is to show how you will address the needs, desires, and any restrictions described in the previous section. The topics here will vary according to the nature of your business and the specific project, but you'll probably want pages with titles like Solutions, Design, Engineering, Prototypes, Quality Control, Manufacturing, Testing, Coordination, Schedule, Components, Options, Cost Summary, Services Offered, Products, Customization, Delivery and so forth.
Include everything you need to thoroughly describe what you propose to do. Generally speaking, the more specific you can be, the more credibility you will have with the potential client, because a detailed plan shows that you thoroughly understand the requirements of the project and have thought about all the potential concerns and pitfalls.
In the fourth and final section, you will switch your role from project manager to marketer, and explain why you have the expertise and experience to make the project a success. It's always best not to brag in vague generalities, but to provide factual information about your Expertise, Education, Training, Credentials, Certifications, Capabilities, and Experience. Have you done similar projects for other customers? If yes, then provide a list of Clients Served. You'll want an About Us or Company History page. If you have won Awards or have Testimonials from other clients, include them here. Do you offer a Guarantee of satisfaction or a product Warranty? Incorporate all the topics you need to persuade your client that you are a trustworthy expert in your field.
Now you have a first draft of your proposal. If it has many pages or complex descriptions, you should create an Executive Summary (a list of the most important points you want even the busiest readers to absorb) and a Table of Contents. These two pages should be inserted immediately after the Title Page.
Edit your proposal language to be sure it reads smoothly and is free of misspellings and grammar errors. For this final step, it's usually best to employ a professional editor or proofreader, or at least use someone other than the proposal writer, because every writer misses errors in his or her own work.
Make sure each page looks neat and professional, too. You might want to add your company logo, special heading fonts or bullet points, or colored page borders to make the pages more visually appealing. Print your proposal for hand delivery or package it into a PDF for delivery via email. Use whichever method is most likely to appeal to your potential client. Sometimes making an extra effort to send a proposal via special messenger or delivering it yourself can make a big impression that will help you beat the competition.
If you're in the aerospace business, you know all about efficient use of tools. So you may be interested to know that there's a product called Proposal Kit that is designed to make writing business proposals faster and easier. It contains thousands of topic templates, including all the ones mentioned above. Each template is professionally formatted and contains instructions and suggestions for content, so you'll never sit staring at a blank word processing screen and wondering what to write.
Proposal Kit also contains dozens of sample proposals, which you can peruse for inspiration about what your proposal might look and sound like. There are even basic contracts you can adapt for your own use, and of course, loads of instructions and useful articles. It's not only for writing proposals, either; all the topics and formats work wonderfully for reports and all kinds of business documents. Proposal Kit is a great tool that will help you efficiently produce business proposals and other documents.
Here are some related samples included in every Proposal Pack:
At this point, you have written the basic draft of your proposal. Now, before you send it out, you have two more tasks to complete. First, hire that editor if you need to, but proofread every single page - if you send out an unprofessional-sounding proposal, odds are the recipients will think your business practices are sloppy, too.
Second, as well as sounding professional, your proposal needs to look professional. So make the pages look good, and consider adding splashes of color and graphic touches with your company logo, special bullets, interesting fonts, etc. Proposal Kit can help here, too, because the products offers a variety of professionally designed proposal packages you can choose from - you get all the same pre-designed topics, but you can choose different graphic "looks" to represent your business. Learn how to effectively select colors for a winning business proposal.

Proposal Pack for Any Business covers this type of proposal and includes samples. There are also some commonly used specialty design themes available:
When your proposal is as polished as it can be, send it out, attached to email as a PDF file or as a printed copy sent via mail or delivered by hand. Choose the delivery method that makes sense for you and your recipients, always keeping in mind that you want to impress them.
So now you can see that anyone who has great ideas or products or services to offer can put together a business proposal, whether it's for a mining project or any other. Writing a proposal doesn't need to be an intimidating project. You can do it. And remember that Proposal Kit can give you a giant head start. Why not begin ten steps ahead with professional topic templates, instructions, and sample proposals?