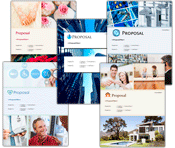 Our template products are cross-platform compatible and will work on Windows (XP, Vista, 7, 8 and 10), Macintosh (OS 8/9 and OS X) and Linux.
Proposal Pack Wizard automation software only works on Microsoft Word for Windows 2003 to 2016. The Wizard is not required for use with the templates, it is an optional component.
Our templates also work in many word processors, including Microsoft Word (including Office / Word 2003 to 2016), Office 365, OpenOffice, StarOffice, Word Perfect, Google Docs, iWork, Pages and Appleworks.

: Word Perfect and Appleworks use file translators which may require some manual reformatting of some documents the first time used.

: Proposal Pack Wizard is an optional add-on software utility which only works in the full retail desktop versions of Microsoft Word 2003 - 2016 for Windows that support macro scripts.

: While all other products work on Mac and Linux, the Proposal Pack Wizard software will only run on Microsoft Word for Windows. You can still use the other products without the Wizard software. Mac users with a dual boot system running Word and Windows in a virtual machine can use the Proposal Pack Wizard. For example, if you are running Parallels on your Mac OS with Windows running in dual boot mode.

On a tight budget and can't afford expensive office suite software like Microsoft Word? Consider the free OpenOffice.org word processor for Windows, Mac and Linux.