This 21 page document is included with Proposal Pack. Create variations of this document of any length to suit your specific needs.
Order and download for $79.
The Humanitarian Aid Services Support Proposal is an example of a non-profit 501(c)(3) presenting a funding request to help fund their international refuge support programs. This is a good example to follow for any non-profit or grant seeking proposal writers.

You can also create countless variations of this document of any length to suit your specific needs using the included library of 2000+ chapters.
has helped me with the very basics of getting started. The templates are ones that are real world value and is a must for all businesses that want to bring about a change in the way you promote and grow your business."
Perry
Produced by:
Proposal Kit
Category:
Software > Computer Software > Business & Productivity Software

4.9 stars, based on over
700 reviews
The following 21 chapters are used in this document: Cover Letter, Title Page, Table of Contents, Executive Summary, Humanitarian Efforts, International, Support, Aid Package, Outreach, Awareness, Implementation Plan, Donors, Funding Plan, Uses of Funds, Funding Request, Company History, Tax Status, Mission Statement, Core Values, Letters of Support, Back Page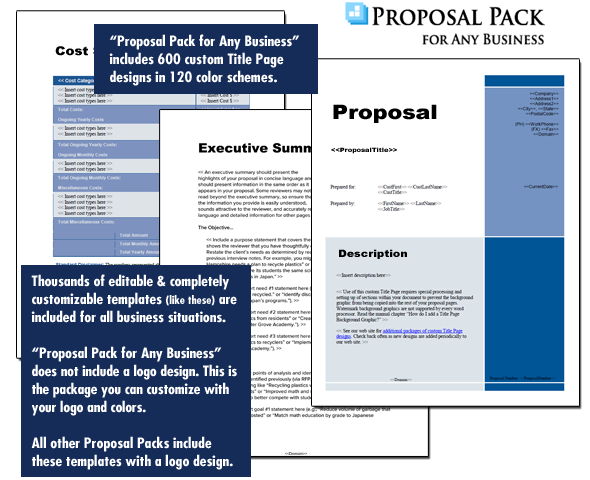 This proposal is commonly used for:
General business proposal
Non-technical proposal
Project pitch proposal
Non-government grant, non-profit, NGO proposal
Medical, healthcare, wellness proposal
nonprofit, non-profit, grant, funding, humanitarian, aid
You can create this document using any of the logo designed
Proposal Packs
. Pick any Proposal Pack that has a logo design theme you personally like best, they all will work equally well. The Proposal Pack for Any Business is the pack with no extra added logos or colors - designed to be used plain or for you to customize with your own logos and graphics. The Proposal Pack design theme you purchase will determine what the visual look of this template will be. The screenshot above only shows the plain generic design theme.
A wide variety of chapters are included and are intended to be assembled based on your needs. All proposals are different and have different needs and goals. Proposal Pack is designed so you can customize the documents to suit your needs. This document is best created using the included Proposal Pack Wizard - Expert Edition software to select this template and build it in the
Proposal Pack logo design theme
of your choice along with any desired customizations (such as adding additional chapters, removing unneeded chapters, changing the order of chapters, importing your company logo, etc.). This template is an outline for a proposal that can be used for the described situation. It is each individual users responsibility to type in the actual content of the provided pages with their own information to complete the proposal. This template is created using Proposal Pack either manually by assembling the chapters or automatically by using the Wizard software. The Expert Edition of the software is included in the Proposal Kit Professional bundle and is available as an upgrade to the Novice edition which is included in all of the lower cost Proposal Packs.