This chapter template is included in every Proposal Pack along with thousands more chapter templates.
Order and download for $79.

DOWNLOADABLE, ONE-TIME COST, NO SUBSCRIPTION FEES
Use the Ceremony template to describe a ceremony that you are planning. List the names of important people you expect to attend your ceremony. If they are assigned specific tasks, such as making a speech, awarding a prize, or providing entertainment, describe that here.
Since 2009 I have been using the proposals for my consulting business. Now more then ever do I realize the value of having formatted documents that guide you through the proposal process. Having the ability to have the documents in Microsoft office format saves me even more time and effort since I already am familiar with the office suite. Many of the other proposal products on the market force you to use their proprietary word processor and spreadsheet tools which is more time consuming."
Jeff Kushner
Vice-President Marketing at Allgress
Produced by:
Proposal Kit
Category:
Software › Computer Software › Business & Productivity Software

4.9 stars, based on
830 reviews
Related chapters may be used in conjunction with this chapter depending on your situation. Many related chapters are intended to be used together to form a more complex and integrated proposal.

Related Chapters: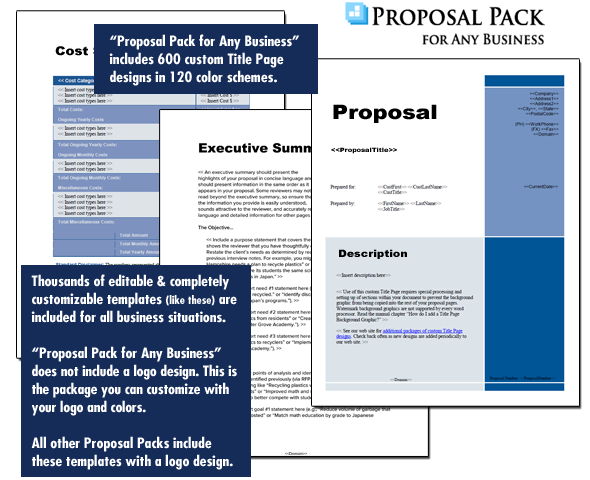 A proper business proposal will include multiple chapters. This is just one of many chapters that may be included in your proposal. The complete fill-in-the-blank template is included in our Proposal Pack template collections. A variety of sample proposals illustrating how companies in different industries both large and small have written proposals using our Proposal Packs are also included. This template will show you how to write the Ceremony.
A wide variety of chapters are included and are intended to be picked based on your needs. All proposals are different and have different needs and goals. Pick the collection of chapters from our collection and organize them as needed for your proposal. Recommendations and samples provided are only intended as general guidelines.
Using the Proposal Pack template library you can create any kind of business proposal, report, study, plan or document
such as these
.
How do you write a Ceremony document?
Use this template to describe ceremony that you are planning. Introduce the reason for the ceremony here and then provide details below. Place Date and Time Insert here the location date and time the event will take place. If important include the expected duration of the event. Honored Guests List the names of important people you expect to attend your ceremony. If they are assigned specific tasks such as making speech awarding prize or providing entertainment describe that here. Media Coverage
Do you expect reporters to list your ceremony on an events calendar or to describe your ceremony in an article. List media contacts invited to the event and coverage that you anticipate. Additional Information Describe here any other details that are pertinent. For example you may want to describe who is invited if there is an expectation of dress or behavior whether food or beverages will be provided and any other information that is important for the reader to know such as transportation security and access issues.
A Document from Proposal Pack

The editable Ceremony template - complete with the actual formatting, layout and graphics is available in the retail Proposal Packs.