This chapter template is included in every Proposal Pack along with thousands more chapter templates.
Order and download for $79.

DOWNLOADABLE, ONE-TIME COST, NO SUBSCRIPTION FEES
Use this template to describe your organization's contingency plan. A contingency plan is a fallback plan, a sequence to be followed when the usual circumstances are disrupted and the primary system fails, but activities must continue.
I'm glad you now have general-business proposal templates! Although most of my work is web design I do have the occasional marketing or advertising project for other businesses that I'm asked to bid on. Your templates save me time and make this part of the process much easier."
Dawn B.
Produced by:
Proposal Kit
Category:
Software › Computer Software › Business & Productivity Software

4.9 stars, based on
824 reviews
Related chapters may be used in conjunction with this chapter depending on your situation. Many related chapters are intended to be used together to form a more complex and integrated proposal.

Related Chapters: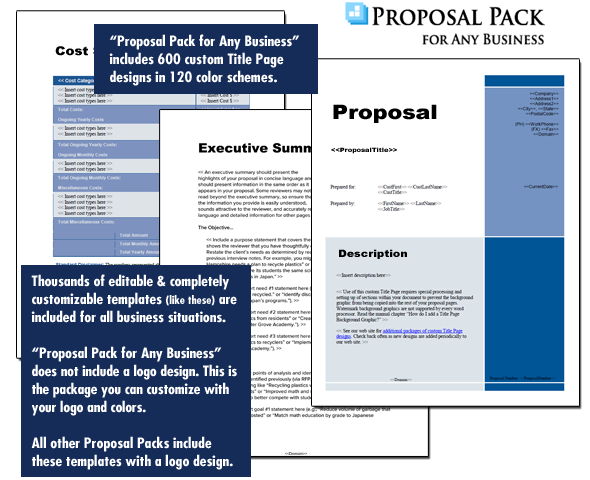 A proper business proposal will include multiple chapters. This is just one of many chapters that may be included in your proposal. The complete fill-in-the-blank template is included in our Proposal Pack template collections. A variety of sample proposals illustrating how companies in different industries both large and small have written proposals using our Proposal Packs are also included. This template will show you how to write the Contingency Plan.
A wide variety of chapters are included and are intended to be picked based on your needs. All proposals are different and have different needs and goals. Pick the collection of chapters from our collection and organize them as needed for your proposal. Recommendations and samples provided are only intended as general guidelines.
Using the Proposal Pack template library you can create any kind of business proposal, report, study, plan or document
such as these
.
How to write my Contingency Plan document
Everyone needs to plan for the unexpected. To be sure that normal activities can continue for our organization we have developed the following contingency plan. Use this template to describe your organizations contingency plan. contingency plan is fallback plan sequence to be followed when the usual circumstances are disrupted and the primary system fails but activities must continue. For example organizations might need contingency plan for computer network failures power failures any sort of attack on company premises loss of key personnel etc. You may need to develop several contingency plans for different scenarios. Be sure to start and end your contingency plan with how to notify the appropriate personnel about the current situation. Possible Emergency Situation Describe the emergency situation this contingency plan is designed for. For example " Power failure lasting more than five minutes" or " Sudden disappearance or incapacitation of classroom teacher. " Objective Describe what you want to achieve by putting the contingency plan into action. For example " Maintain computer network power and security and safety systems within buildings on our corporate campus" or " Keep kids in classroom safe and calm. "
The Plan When describe emergency situation here happens these steps will be followed. Describe Step here. Be sure to name responsible parties provide phone numbers or office locations specify time frames etc. Be as specific as possible. For example " After power has been out for five minutes the Facilities Manager will start the auxiliary generator" or " Upon notification from the Principal the Designated Substitute Teacher will immediately take control of the class combining classes in the same room if necessary. " Describe Step here. Describe Step here. Describe Step here. Describe Step here. Distribution of Plan
Describe how this plan will be distributed to the personnel that need to be aware of it. For example large corporation might present the plan at monthly meeting and then post it in the companys lunch room.
A Document from Proposal Pack

The editable Contingency Plan template - complete with the actual formatting, layout and graphics is available in the retail Proposal Packs.