Use this template to describe a decline in something. This would most likely be a decline in market share, sales, or customers, but this could also be a decline in popularity in a political context.
using Proposal Pack for 7 months now and have to say it is simply the best software I have used for delivering professional proposals to my clients. Our company has to date delivered 40 proposals [approximately $350,000 in bids] and have secured all of them. I give credit to Proposal Pack for helping me deliver these in a timely manner."
Todd Alan
TodlWeb Inc.
Produced by:
Proposal Kit
Category:
Software > Computer Software > Business & Productivity Software

4.9 stars, based on over
700 reviews
Related chapters may be used in conjunction with this chapter depending on your situation. Many related chapters are intended to be used together to form a more complex and integrated proposal.

Related Chapters: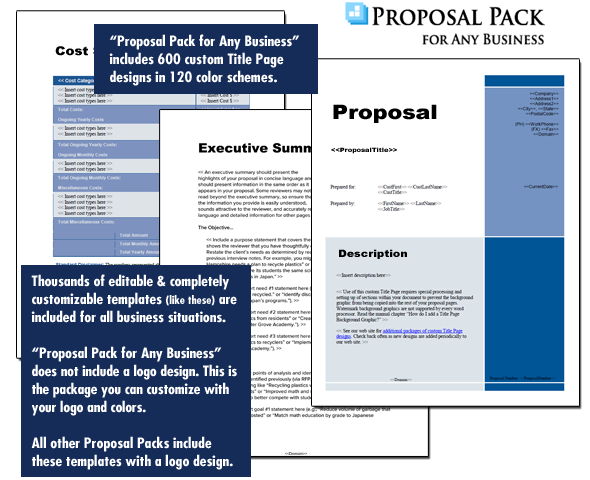 A proper business proposal will include multiple chapters. This is just one of many chapters that may be included in your proposal. The complete fill-in-the-blank template is included in our Proposal Pack template collections. A variety of sample proposals illustrating how companies in different industries both large and small have written proposals using our Proposal Packs are also included. This template will show you how to write the Decline.
A wide variety of chapters are included and are intended to be picked based on your needs. All proposals are different and have different needs and goals. Pick the collection of chapters from our collection and organize them as needed for your proposal. Recommendations and samples provided are only intended as general guidelines.
Using the Proposal Pack template library you can create any kind of business proposal, report, study, plan or document
such as these
.
Writing the Decline document
Use this template to describe decline in something. This would most likely be decline in market share sales or customers but this could also be decline in popularity in political context. Introduce the topic of the decline and explain its importance in the context of your proposal. Provide background as needed for readers to understand the starting point of the measurement and the time period over which the decline has happened. Insert chart showing decline here. Reasons behind the Decline The reasons behind this decline are.
Reason #1 e. g. " Competitors are eating into our market share" or " We have not carried through on our promises" Describe any important details about this reason here. Reason #2 Describe any important details about this reason here. Reason #3 Describe any important details about this reason here.
Recommendations Make recommendations about what to do to remedy this decline.
A Document from Proposal Pack

The editable Decline template - complete with the actual formatting, layout and graphics is available in the retail Proposal Packs.