This chapter template is included in every Proposal Pack along with thousands more chapter templates.
Order and download for $79.

DOWNLOADABLE, ONE-TIME COST, NO SUBSCRIPTION FEES
Use this page to talk about a disruptive technology which is something that comes along that is superior to what came before and vastly changes the way something was done before. This could be a topic page for a company talking about their idea for the next innovation or a report on a new trend. Back in the day the automobile was a disruptive technology, now things like 3D-Printing and cryptocurrency are. This template is more focused on a specific technology vs the higher-level concept Disruptive Innovation page.
Great application that assists in providing me with the direction and the foundation for which I can build upon to develop my business proposals."
Dale P.
Produced by:
Proposal Kit
Category:
Software › Computer Software › Business & Productivity Software

4.9 stars, based on
830 reviews
Alternate chapters are those which may be used instead of this chapter depending on your situation. Alternate chapters may be better suited for different size projects, more specialized projects, variations on rights, etc.

Alternate Chapters:
Related chapters may be used in conjunction with this chapter depending on your situation. Many related chapters are intended to be used together to form a more complex and integrated proposal.

Related Chapters: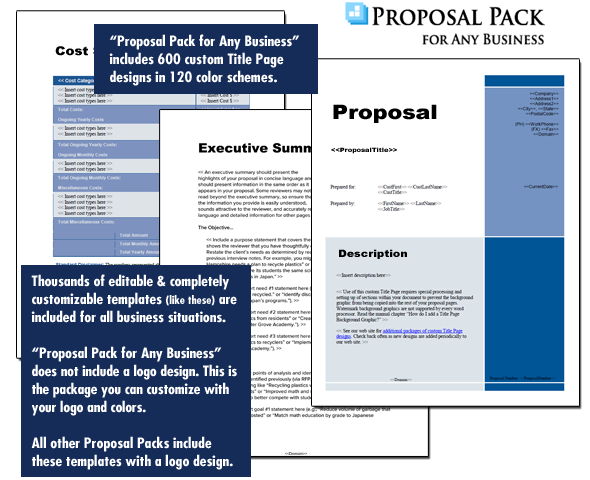 A proper business proposal will include multiple chapters. This is just one of many chapters that may be included in your proposal. The complete fill-in-the-blank template is included in our Proposal Pack template collections. A variety of sample proposals illustrating how companies in different industries both large and small have written proposals using our Proposal Packs are also included. This template will show you how to write the Disruptive Technology.
A wide variety of chapters are included and are intended to be picked based on your needs. All proposals are different and have different needs and goals. Pick the collection of chapters from our collection and organize them as needed for your proposal. Recommendations and samples provided are only intended as general guidelines.
Using the Proposal Pack template library you can create any kind of business proposal, report, study, plan or document
such as these
.
Writing the Disruptive Technology document
Describe how the topic of disruptive technology fits into the context of your proposal. The Technology Describe the technology or innovation that transformed or disrupted the market. The Disruption Describe how this technology disrupted the status quo of the market. Implications for the Future Describe how the impact of this technology is likely to affect the future of the market. Will it lead to more innovations and more disruptions.
A Document from Proposal Pack

The editable Disruptive Technology template - complete with the actual formatting, layout and graphics is available in the retail Proposal Packs.