This chapter template is included in every Proposal Pack along with thousands more chapter templates.
Order and download for $79.

DOWNLOADABLE, ONE-TIME COST, NO SUBSCRIPTION FEES
Use the Grading System template to describe the grading system you propose to use. Grading systems may be used throughout specific groups or institutions, or unique to specific teachers, or used only for a specific project or test.
I have used Proposal Pack Wizard since 2008 and find it to be a great tool that I use in tandem with my other Proposal Pack products. As a consultant with a variety of clients, I need professional, efficient tools that offer a wide variety of samples and components when developing my proposals! I do not have a lot of time to research and compose. This program provides me with great content for my work. I always receive compliments about the quality of my presentations. It is easy to use, easy to edit and offers great variety."
Lura Ball
Produced by:
Proposal Kit
Category:
Software › Computer Software › Business & Productivity Software

4.9 stars, based on
821 reviews
Related chapters may be used in conjunction with this chapter depending on your situation. Many related chapters are intended to be used together to form a more complex and integrated proposal.

Related Chapters: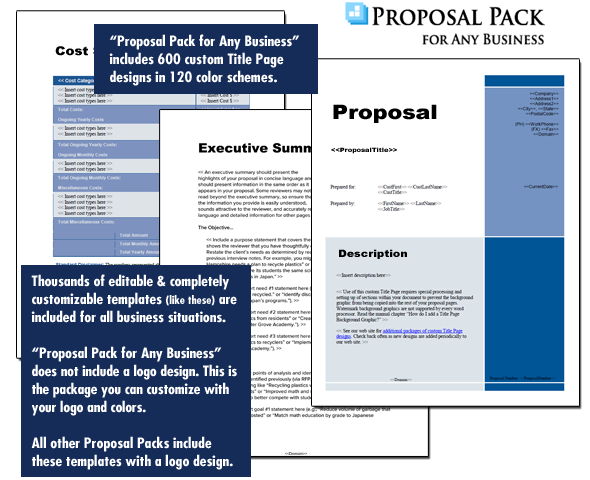 A proper business proposal will include multiple chapters. This is just one of many chapters that may be included in your proposal. The complete fill-in-the-blank template is included in our Proposal Pack template collections. A variety of sample proposals illustrating how companies in different industries both large and small have written proposals using our Proposal Packs are also included. This template will show you how to write the Grading System.
A wide variety of chapters are included and are intended to be picked based on your needs. All proposals are different and have different needs and goals. Pick the collection of chapters from our collection and organize them as needed for your proposal. Recommendations and samples provided are only intended as general guidelines.
Using the Proposal Pack template library you can create any kind of business proposal, report, study, plan or document
such as these
.
Writing the Grading System document
Use this page to describe the grading system you propose to use. Grading systems may be used throughout specific groups or institutions or unique to specific teachers or used only for specific project or test. We will use the following grading system. Insert Name of Grading System Describe whether this is standard system used by many other institutions and whether this system will be used at all times or for specific project or test. Scoring Describe how and by whom scoring will be done. For example percentages for various elements may add up to the total score or each question on True False test will be equal to two points and so forth. Grades Explain how scores correlate to grades. For example in many schools in the U. S. a score of percent correlates to letter grade and numerical score of 4. 0. Add details as needed here. You may want to explain exceptions to the rules described above describe how grades are distributed to students and authorities discuss the implications of failing grades and or how they can be improved and so forth.
Web site domain URL
A Document from Proposal Pack

The editable Grading System template - complete with the actual formatting, layout and graphics is available in the retail Proposal Packs.