This chapter template is included in every Proposal Pack along with thousands more chapter templates.
Order and download for $79.

DOWNLOADABLE, ONE-TIME COST, NO SUBSCRIPTION FEES
Use this page to describe a lesson plan for a class. Most teachers use detailed lesson plans when they teach. Often these plans include required elements that must be mastered by students to pass exams required by the school system.
The Proposal Pack is an outstanding product, It speeds the proposal process by almost 75%. That adds up to more deals per year. A great growth enabling tool."
William McDonald
Arvato
Produced by:
Proposal Kit
Category:
Software › Computer Software › Business & Productivity Software

4.9 stars, based on
824 reviews
Related chapters may be used in conjunction with this chapter depending on your situation. Many related chapters are intended to be used together to form a more complex and integrated proposal.

Related Chapters: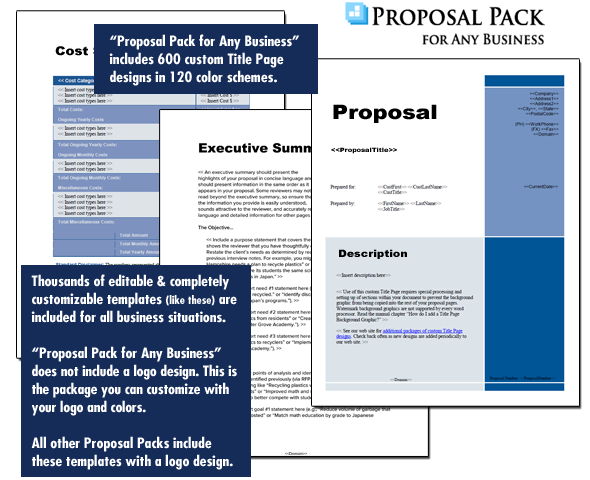 A proper business proposal will include multiple chapters. This is just one of many chapters that may be included in your proposal. The complete fill-in-the-blank template is included in our Proposal Pack template collections. A variety of sample proposals illustrating how companies in different industries both large and small have written proposals using our Proposal Packs are also included. This template will show you how to write the Lesson Plan.
A wide variety of chapters are included and are intended to be picked based on your needs. All proposals are different and have different needs and goals. Pick the collection of chapters from our collection and organize them as needed for your proposal. Recommendations and samples provided are only intended as general guidelines.
Using the Proposal Pack template library you can create any kind of business proposal, report, study, plan or document
such as these
.
How to write my Lesson Plan document
Use this page to describe lesson plan for class. Most teachers use detailed lesson plans when they teach. Often these plans include required elements that must be mastered by students to pass exams required by the school system. Introduce the following lesson plan by explaining the context date time instructor or any other information that is needed. Title of the Lesson e. g. " Adverbs and Their Usage" or " Basic Color Theory" Time Required. Insert the time needed to complete the lesson e. g. " hour" Materials. Insert the list of materials required or textbook pages to refer to. Objectives. List the lessons objectives. These might be knowledge objectives what the student should know after completing the lesson or behavioral objectives skills the student should be able to demonstrate after completing the lesson.
Setup. Describe the setup or lead in for the lesson. This might be summary of previous lesson set of questions to ask or description of problem that must be solved. Sequence. Describe the sequence that the lesson should follow. For example this might be list of questions and answers to be discussed by the instructor or series of short practice exercises interspersed with discussions. Skills Practice. Describe exercises that will allow students to practice their new skills or extend their knowledge by themselves. This might be in class practice or homework to be assigned. Lesson Conclusion. Describe how the lesson should be concluded. You may want to refer to previous lessons or describe how this lesson will factor into the next lesson in the sequence. Evaluation. Describe how skills and or knowledge from this lesson will be evaluated such as in test. You may want to include the actual test questions or exercises.
Notes. You may want to include an instruction and space here for the instructor to make notes before or after teaching this lesson.
A Document from Proposal Pack

The editable Lesson Plan template - complete with the actual formatting, layout and graphics is available in the retail Proposal Packs.