This chapter template is included in every Proposal Pack along with thousands more chapter templates.
Order and download for $79.

DOWNLOADABLE, ONE-TIME COST, NO SUBSCRIPTION FEES
Use this page to discuss enrollment in courses or programs. State the requirements for enrolling. These might include restrictions on age, residency, physical abilities, financial situations, test scores, credit scores, and so forth.
Proposal Kit is very helpful to my business. I used it for a very big tendering project and we won the business with it."
Regina Gan
Rena Creative Products Ltd.
Produced by:
Proposal Kit
Category:
Software › Computer Software › Business & Productivity Software

4.9 stars, based on
821 reviews
Related chapters may be used in conjunction with this chapter depending on your situation. Many related chapters are intended to be used together to form a more complex and integrated proposal.

Related Chapters:
This template is illustrated in actual use in the following Sample Proposals. Samples are also included in each Proposal Pack and illustate many of the industries and situations this template can be used for: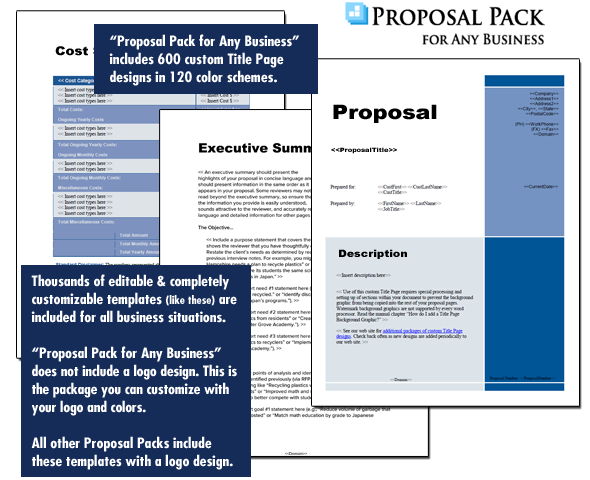 A proper business proposal will include multiple chapters. This is just one of many chapters that may be included in your proposal. The complete fill-in-the-blank template is included in our Proposal Pack template collections. A variety of sample proposals illustrating how companies in different industries both large and small have written proposals using our Proposal Packs are also included. This template will show you how to write the Enrollment.
A wide variety of chapters are included and are intended to be picked based on your needs. All proposals are different and have different needs and goals. Pick the collection of chapters from our collection and organize them as needed for your proposal. Recommendations and samples provided are only intended as general guidelines.
Using the Proposal Pack template library you can create any kind of business proposal, report, study, plan or document
such as these
.
Writing the Enrollment document
Use this page to discuss enrollment in courses or programs. Introduce the topic of enrollment here. You might want to state specific time period such as " Enrollment Period for Fall Quarter at the Community College will open on August 30th. " Requirements State the requirements for enrolling. These might include restrictions on age residency physical abilities financial situations test scores credit scores and so forth. Dates State the dates on which you will be accepting enrollment. If enrollment is restricted to limited number be sure to state that too as well as explaining whether you will maintain standby list in cases of cancelled enrollments. Instructions Tell your readers how and where they can enroll. Consider the various possible situations of enrollees and think about whether you need to provide instructions for returning students or customers or for those transferring from other programs or for those with special needs etc.
Cancellation Policy Describe your policy on when and how enrollment may be cancelled. Be sure to describe any penalties that the enrollee may incur on cancellation. Other Considerations Use this section to describe costs schedule interruptions or any other issues associated with enrollment. For additional information describe how to get additional information here providing website URL or phone number
A Document from Proposal Pack

The editable Enrollment template - complete with the actual formatting, layout and graphics is available in the retail Proposal Packs.