This chapter template is included in every Proposal Pack along with thousands more chapter templates.
Order and download for $79.

DOWNLOADABLE, ONE-TIME COST, NO SUBSCRIPTION FEES
Use this template to describe your organization's current health care plan, or to describe your ideas for creating a health plan. Introduce the topic of a health plan here and explain its importance to your proposal.
Writing proposals for any type of project is often difficult and time consuming. Not so with the Proposal Pack Wizard. It connects via Ad-Ins to your Microsoft Word and uses a step-by-step approach to get started with your proposals. After filling out a couple of fields and settings, you're good to go. The documents contained in the Wizard are very useful, with tips on how to write proposals and sample proposals to get you started. The many templates available make writing proposals easy even for those with little previous knowledge."
Manfred Eikel
Produced by:
Proposal Kit
Category:
Software › Computer Software › Business & Productivity Software

4.9 stars, based on
830 reviews
Related chapters may be used in conjunction with this chapter depending on your situation. Many related chapters are intended to be used together to form a more complex and integrated proposal.

Related Chapters: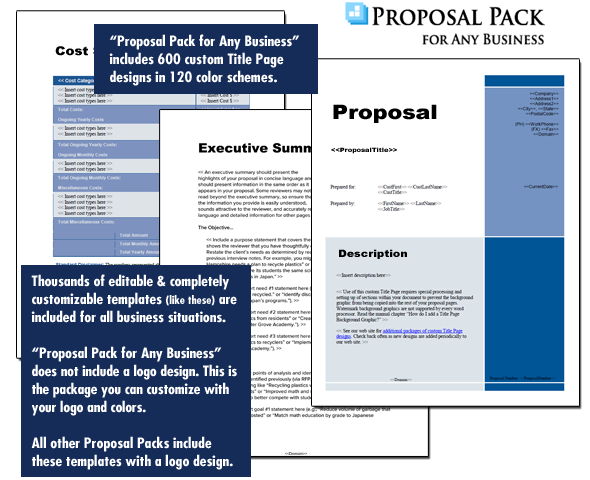 A proper business proposal will include multiple chapters. This is just one of many chapters that may be included in your proposal. The complete fill-in-the-blank template is included in our Proposal Pack template collections. A variety of sample proposals illustrating how companies in different industries both large and small have written proposals using our Proposal Packs are also included. This template will show you how to write the Health Plan.
A wide variety of chapters are included and are intended to be picked based on your needs. All proposals are different and have different needs and goals. Pick the collection of chapters from our collection and organize them as needed for your proposal. Recommendations and samples provided are only intended as general guidelines.
Using the Proposal Pack template library you can create any kind of business proposal, report, study, plan or document
such as these
.
Writing the Health Plan document
Use this template to describe your organizations current health care plan or to describe your ideas for creating health plan. Introduce the topic of health plan here and explain its importance to your proposal. Insert Plan Name here e. g. " EasyCare Plan" Summary Insert here quick summary statement of the plan such as " catastrophic plan with deductible most suited to healthy individuals. " Premiums Insert here the cost of monthly premiums. Depending on your purpose this might be table of costs separated by age of participant smoker or nonsmoker geographical region etc. For an extensive listing use Proposal Kits Premiums template.
Benefits Insert here the list of benefits. This could be long detailed list that might be most appropriate in table format. Exclusions Insert here the services and products that would not be covered under the plan. Insert summary paragraph here. You may want to include statement about how often the plan would be updated information about how to apply for this plan and provide phone number and or web site address for additional information.
A Document from Proposal Pack

The editable Health Plan template - complete with the actual formatting, layout and graphics is available in the retail Proposal Packs.