This chapter template is included in every Proposal Pack along with thousands more chapter templates.
Order and download for $79.

DOWNLOADABLE, ONE-TIME COST, NO SUBSCRIPTION FEES
The Hourly Services Contract is a short form agreement for performing hourly work. Use this template when performing short-term and low-risk hourly services which do not require a detailed contract.
I have been using the Proposal Pack since 2013. It has a lot of resources to writing the right proposal in a neat fast pace thanks to the Wizard included. The user interface was simple to use from the start. Definitely a great product that has gotten better over time. They are always improving and offers a very nice title pages packs to make each of your proposals unique. It is super easy to use, and very professional looking end result. I would recommend it to anyone."
Trevor Neil
BETA Financial Ltd
Produced by:
Proposal Kit
Category:
Software › Computer Software › Business & Productivity Software

4.9 stars, based on
801 reviews
Alternate chapters are those which may be used instead of this chapter depending on your situation. Alternate chapters may be better suited for different size projects, more specialized projects, variations on rights, etc.

Alternate Chapters:
Related chapters may be used in conjunction with this chapter depending on your situation. Many related chapters are intended to be used together to form a more complex and integrated proposal.

Related Chapters: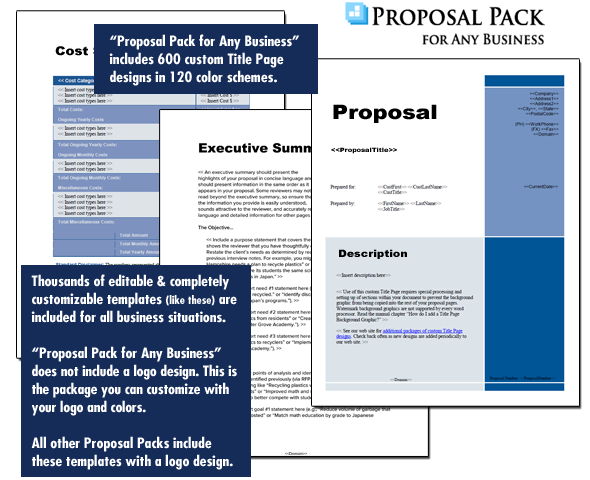 A proper business proposal will include multiple chapters. This is just one of many chapters that may be included in your proposal. The complete fill-in-the-blank template is included in our Proposal Pack template collections. A variety of sample proposals illustrating how companies in different industries both large and small have written proposals using our Proposal Packs are also included. This template will show you how to write the Hourly Services Contract.
A wide variety of chapters are included and are intended to be picked based on your needs. All proposals are different and have different needs and goals. Pick the collection of chapters from our collection and organize them as needed for your proposal. Recommendations and samples provided are only intended as general guidelines.
Using the Proposal Pack template library you can create any kind of business proposal, report, study, plan or document
such as these
.
Writing the Hourly Services Contract document
Scope of Work to be Performed Company name " Company" is being retained to provide Insert description of the services to be provided services to Company name as directed by Company name Management and Staff. Schedule of Fees Fees for the above referenced services will be billed at flat Hourly rate per hour. Company name will invoice on semi monthly basis and payment is due NET days after presentation of the invoice. Any information concerning the services rendered under this agreement or any sensitive information disclosed to Company name will be held in strictest confidence. Company name will not disclose any information in whole or in part to any party for any purpose whatsoever without specific prior approval of the Customer.
This agreement shall be binding after Company name receives Insert the amount of the retainer fee retainer. The retainer shall be used and applied against whichever last invoice Company name has turned in for all services rendered under this agreement. Company name may require Company name to renew its retainer periodically depending on the total amount of services rendered by Company. This agreement commences when signed by both parties and returned to Company name along with the agreed upon retainer. Company name Company name By signator authorized signature or signer. By. Date Date Address
Address City State or province Zip or postal code Phone number
A Document from Proposal Pack

The editable Hourly Services Contract template - complete with the actual formatting, layout and graphics is available in the retail Proposal Packs.