This chapter template is included in every Proposal Pack along with thousands more chapter templates.
Order and download for $79.

DOWNLOADABLE, ONE-TIME COST, NO SUBSCRIPTION FEES
Introduce the concept of improvement here and explain its importance within the context of this proposal.
I have been using the proposal kit and wizard since 2009. The wizard has allowed me to automate and drive many of the steps which streamlines the process and orderly creation of proposals with good starting content. The software allows you focus on your business and instead of spending hours creating proposals. Their wizard guides you through the process which makes it less likely to forget anything."
Jeff Kushner
Vice-President Marketing at Allgress
Produced by:
Proposal Kit
Category:
Software › Computer Software › Business & Productivity Software

4.9 stars, based on
821 reviews
Alternate chapters are those which may be used instead of this chapter depending on your situation. Alternate chapters may be better suited for different size projects, more specialized projects, variations on rights, etc.

Alternate Chapters:
Related chapters may be used in conjunction with this chapter depending on your situation. Many related chapters are intended to be used together to form a more complex and integrated proposal.

Related Chapters: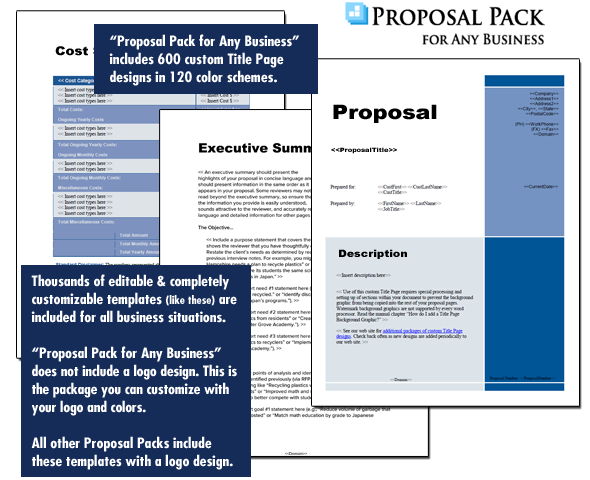 A proper business proposal will include multiple chapters. This is just one of many chapters that may be included in your proposal. The complete fill-in-the-blank template is included in our Proposal Pack template collections. A variety of sample proposals illustrating how companies in different industries both large and small have written proposals using our Proposal Packs are also included. This template will show you how to write the Improvement.
A wide variety of chapters are included and are intended to be picked based on your needs. All proposals are different and have different needs and goals. Pick the collection of chapters from our collection and organize them as needed for your proposal. Recommendations and samples provided are only intended as general guidelines.
Using the Proposal Pack template library you can create any kind of business proposal, report, study, plan or document
such as these
.
Writing the Improvement document
Introduce the concept of improvement here and explain its importance within the context of this proposal. This template can be used to describe any kind of improvement such as the improvement in the productivity of manufacturing process or improvement of student grades within private school. You may want to discuss the history of the subject here explaining what caused the necessity to track improvement. Summary of Improvement Describe the improvement that has occurred. Include any important specifics such as the time period over which improvement has occurred. Methods for Determination of Improvement Detail the methods used to measure the improvement. Reasons for Improvement Explain the causes behind the improvement. For example you might cite better employee training that led to improved productivity or new combination of drugs used to achieve better result in patients.
Discussion Describe any limitations or qualifications on the improvement. For example you may want to emphasize that its too early to project future improvement or you may want to explain the tremendous benefits to be gained by continued improvement. Next Steps Describe any steps needed to take advantage of or continue this improvement. For example additional funding or personnel may be needed or further modifications of process may be required to make even greater improvements.
A Document from Proposal Pack

The editable Improvement template - complete with the actual formatting, layout and graphics is available in the retail Proposal Packs.