This chapter template is included in every Proposal Pack along with thousands more chapter templates.
Order and download for $79.

DOWNLOADABLE, ONE-TIME COST, NO SUBSCRIPTION FEES
Use this template to describe the details of the installation you are proposing to do or expecting to have done for you. While many installations are simple, the installation of a large energy, hardware, or software system, or of a large piece of equipment may be quite complex.
The packs have really helped us to obtain these business contracts, and without them we would still be scratching our heads for ideas. This was the best investment that we have made to enable our company to grow."
Alby
Produced by:
Proposal Kit
Category:
Software › Computer Software › Business & Productivity Software

4.9 stars, based on
830 reviews
Related chapters may be used in conjunction with this chapter depending on your situation. Many related chapters are intended to be used together to form a more complex and integrated proposal.

Related Chapters:
This template is illustrated in actual use in the following Sample Proposals. Samples are also included in each Proposal Pack and illustate many of the industries and situations this template can be used for: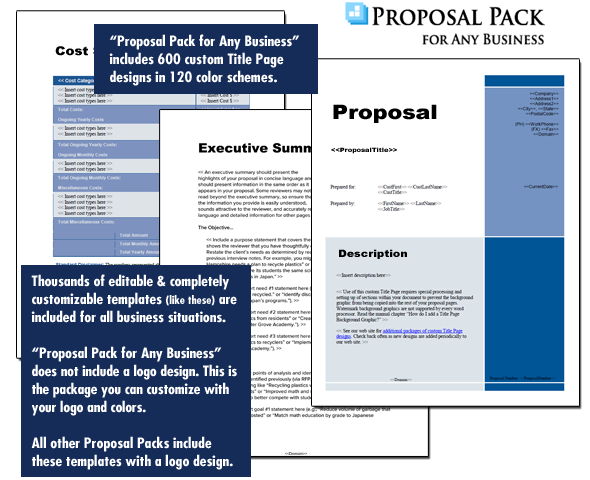 A proper business proposal will include multiple chapters. This is just one of many chapters that may be included in your proposal. The complete fill-in-the-blank template is included in our Proposal Pack template collections. A variety of sample proposals illustrating how companies in different industries both large and small have written proposals using our Proposal Packs are also included. This template will show you how to write the Installation Details.
A wide variety of chapters are included and are intended to be picked based on your needs. All proposals are different and have different needs and goals. Pick the collection of chapters from our collection and organize them as needed for your proposal. Recommendations and samples provided are only intended as general guidelines.
Using the Proposal Pack template library you can create any kind of business proposal, report, study, plan or document
such as these
.
How do you write a Installation Details document?
Use this template to describe the details of the installation you are proposing to do or expecting to have done for you. While many installations are simple the installation of large energy hardware or software system or of large piece of equipment may be quite complex. Introduce the topic of installation here and refer to other documents in your proposal as necessary. For example you might include the installation schedule here or use the Installation Schedule template included in Proposal Pack and then discuss other details here. Pre Installation Considerations Are there activities that must be completed or notifications that must be made before installation can begin. For example do you need to make sure certain space is cleared permits have been acquired or the electricity or water supply is turned on or off. Do normal operations need to be paused for installation. List all the pre installation requirements here. Installation Procedures Describe what will happen during installation. Will unusual equipment or another companys personnel be on site. How long will installation take. What procedures will take place. Will installation involve dangers that require protective equipment such as excessive noise hazardous chemicals or risk of objects falling from overhead. What normal operations may be disrupted or affected by installation. Answer all of these questions here.
Post Installation Considerations If after installation is judged to be complete there are other activities that must take place describe those here. For example on construction project the installation of power system or large structure may need to be inspected. There may be cleanup of facilities needed after installation testing of the new system or personnel may need to be trained. Describe all post installation activities here.
A Document from Proposal Pack

The editable Installation Details template - complete with the actual formatting, layout and graphics is available in the retail Proposal Packs.