This chapter template is included in every Proposal Pack along with thousands more chapter templates.
Order and download for $79.

DOWNLOADABLE, ONE-TIME COST, NO SUBSCRIPTION FEES
The Leadership template is used to describe how your company is a leader in its industry and to describe the ethics, values, vision and outward charitable efforts to the community.
It eases the pressure of writing proposals and leads you on just like holding your hands and pulling you through all the hurdles."
Mathias Dafur
Alkas Res. Ltd.
Produced by:
Proposal Kit
Category:
Software › Computer Software › Business & Productivity Software

4.9 stars, based on
837 reviews
Related chapters may be used in conjunction with this chapter depending on your situation. Many related chapters are intended to be used together to form a more complex and integrated proposal.

Related Chapters:
This template is illustrated in actual use in the following Sample Proposals. Samples are also included in each Proposal Pack and illustate many of the industries and situations this template can be used for: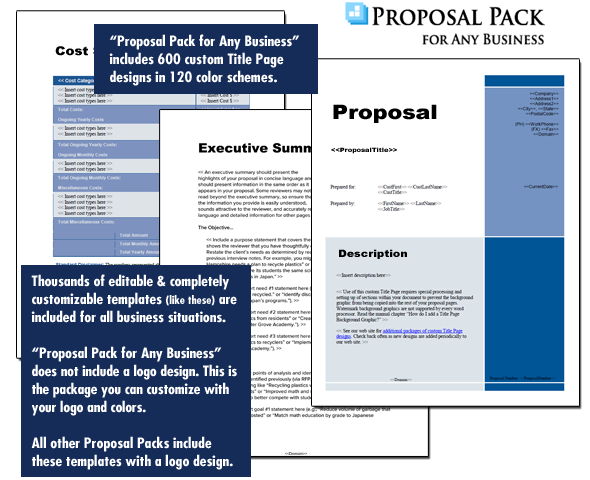 A proper business proposal will include multiple chapters. This is just one of many chapters that may be included in your proposal. The complete fill-in-the-blank template is included in our Proposal Pack template collections. A variety of sample proposals illustrating how companies in different industries both large and small have written proposals using our Proposal Packs are also included. This template will show you how to write the Leadership.
A wide variety of chapters are included and are intended to be picked based on your needs. All proposals are different and have different needs and goals. Pick the collection of chapters from our collection and organize them as needed for your proposal. Recommendations and samples provided are only intended as general guidelines.
Using the Proposal Pack template library you can create any kind of business proposal, report, study, plan or document
such as these
.
How to write my Leadership document
Company name has been leader in its industry since insert year Describe how your company has been leader and how you excel above your competition. Some of the things that distinguish leaders in their field are their ethics core values vision and outward look to the community they serve. Ethics Describe your companys ethics and how you maintain them. Core Values Insert core value. Insert description of core value here.
Insert core value. Insert description of core value here. Insert core value. Insert description of core value here. Vision We have vision for our companys long term future. Describe the long term visions your company has. These are the goals you are ultimately reaching for. Charitable Efforts We understand the importance of giving back to the community. Being charitable donor to the community helps give us an outward focus and keeps us at the forefront of the community.
Insert statement regarding the charitable efforts of your business.
A Document from Proposal Pack

The editable Leadership template - complete with the actual formatting, layout and graphics is available in the retail Proposal Packs.