This chapter template is included in every Proposal Pack along with thousands more chapter templates.
Order and download for $79.

DOWNLOADABLE, ONE-TIME COST, NO SUBSCRIPTION FEES
Use this template to describe a line of credit that you are offering or have received.
I had a very important sales proposal to prepare, and was given only a 1-day notice. The forms were perfect, and the presentation went great. We were told it was the best she had ever seen. Thanks for a great product, and for providing it in a pinch."
Kevin Onizuk
Managing Director/President
Produced by:
Proposal Kit
Category:
Software › Computer Software › Business & Productivity Software

4.9 stars, based on
824 reviews
Related chapters may be used in conjunction with this chapter depending on your situation. Many related chapters are intended to be used together to form a more complex and integrated proposal.

Related Chapters: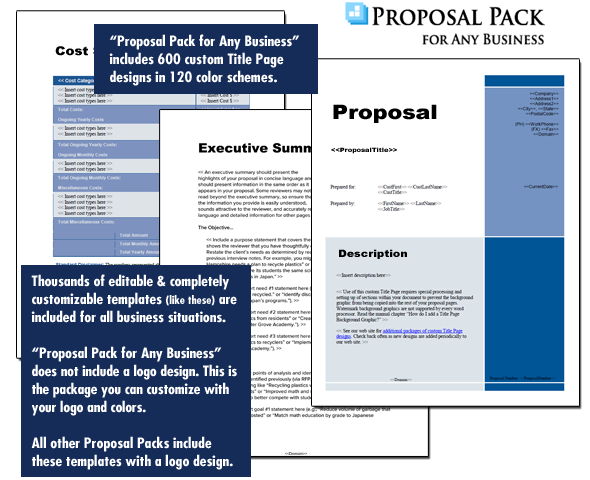 A proper business proposal will include multiple chapters. This is just one of many chapters that may be included in your proposal. The complete fill-in-the-blank template is included in our Proposal Pack template collections. A variety of sample proposals illustrating how companies in different industries both large and small have written proposals using our Proposal Packs are also included. This template will show you how to write the Line of Credit.
A wide variety of chapters are included and are intended to be picked based on your needs. All proposals are different and have different needs and goals. Pick the collection of chapters from our collection and organize them as needed for your proposal. Recommendations and samples provided are only intended as general guidelines.
Using the Proposal Pack template library you can create any kind of business proposal, report, study, plan or document
such as these
.
Writing the Line of Credit document
Use this template to describe line of credit that you are offering or have received. line of credit is typically loan offered to business to help the business overcome temporary cash flow problem restock inventory etc. line of credit might take the form of cash loan or an overdraft or purchase agreement etc. line of credit is typically offered as type of account that may or may not be used depending on financial need. Generally maximum line of credit amount is specified and the business may use any part of that amount and owe interest only on the amount used. One of the most common lines of credit used in the United States is the home equity line of credit where lending institution allows homeowner to borrow money based on the worth of home. home equity line of credit may be established for maximum amount such as but the homeowner might borrow any portion of that amount say $10 000 and then pay interest only on the amount borrowed. Introduce the topic of line of credit here and explain its importance in the context of your proposal. For instance has your company received line of credit from financial institution that will ensure that your company remains solvent for the next five years. Or are you offering line of credit to another party to ensure that partys success. Describe the line of credit agreement here including to whom and by whom it is offered the total amount the terms and interest etc.
A Document from Proposal Pack

The editable Line of Credit template - complete with the actual formatting, layout and graphics is available in the retail Proposal Packs.