This chapter template is included in every Proposal Pack along with thousands more chapter templates.
Order and download for $79.

DOWNLOADABLE, ONE-TIME COST, NO SUBSCRIPTION FEES
Use the Microfinancing template to describe your ideas for establishing microfinancing options or support (micro loans) for small businesses in developing areas.
Adding information, click to next section, then add more information to then see the final layout in WORD is amazing. No need to worry about formatting, so I just pick what information I want for the proposal, report, or contract, and ensure what I want to say makes sense--the fixings are there and I just add the meat & potatoes."
Richard Guadalupe McDonald
Global Health Science Institute
Produced by:
Proposal Kit
Category:
Software › Computer Software › Business & Productivity Software

4.9 stars, based on
824 reviews
Alternate chapters are those which may be used instead of this chapter depending on your situation. Alternate chapters may be better suited for different size projects, more specialized projects, variations on rights, etc.

Alternate Chapters:
Related chapters may be used in conjunction with this chapter depending on your situation. Many related chapters are intended to be used together to form a more complex and integrated proposal.

Related Chapters: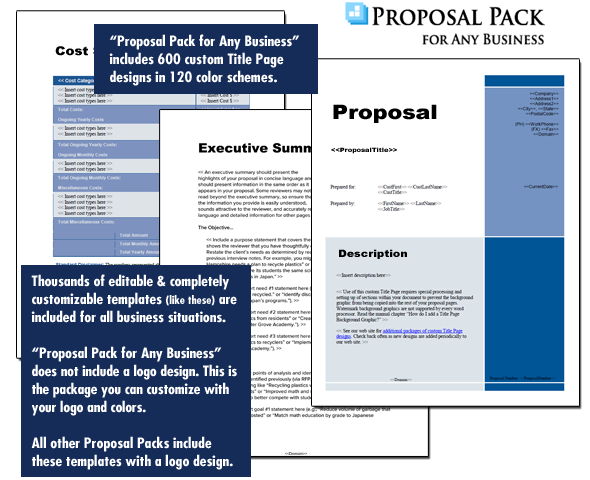 A proper business proposal will include multiple chapters. This is just one of many chapters that may be included in your proposal. The complete fill-in-the-blank template is included in our Proposal Pack template collections. A variety of sample proposals illustrating how companies in different industries both large and small have written proposals using our Proposal Packs are also included. This template will show you how to write the Microfinancing.
A wide variety of chapters are included and are intended to be picked based on your needs. All proposals are different and have different needs and goals. Pick the collection of chapters from our collection and organize them as needed for your proposal. Recommendations and samples provided are only intended as general guidelines.
Using the Proposal Pack template library you can create any kind of business proposal, report, study, plan or document
such as these
.
Writing the Microfinancing document
Use this template to describe your ideas for establishing microfinancing options or support micro for small businesses in developing areas. Introduce the topic of microfinancing here and explain in general what that term means to you. The Need Explain the need for microfinance services. Do you propose to help small entrepreneurs in poor areas who cannot get credit. Who will be your typical applicant. Criteria Explain how you will determine who is eligible for your microfinance services. Services Provided Explain what you propose to offer. Process
Describe how the entire process will work from application to award of the microfinance amount to repayment. Risks Explain the risks involved such as the inability of the recipient to repay loan. Rewards Describe the anticipated benefit to the individual and community served as well as to your organization.
Notes Insert any other pertinent information here.
A Document from Proposal Pack

The editable Microfinancing template - complete with the actual formatting, layout and graphics is available in the retail Proposal Packs.