This chapter template is included in every Proposal Pack along with thousands more chapter templates.
Order and download for $79.

DOWNLOADABLE, ONE-TIME COST, NO SUBSCRIPTION FEES
Use this page to discuss the topic of mobility (the ability to move from place to place). You might want to discuss the portability of devices, processes, ideas, or even personnel.
I recently purchased one of your Proposal Packs. I must admit the proposal packs are excellent. You have successfully streamlined the process so that I can focus on the details of the content of the proposal."
Sharon
Produced by:
Proposal Kit
Category:
Software › Computer Software › Business & Productivity Software

4.9 stars, based on
837 reviews
Related chapters may be used in conjunction with this chapter depending on your situation. Many related chapters are intended to be used together to form a more complex and integrated proposal.

Related Chapters: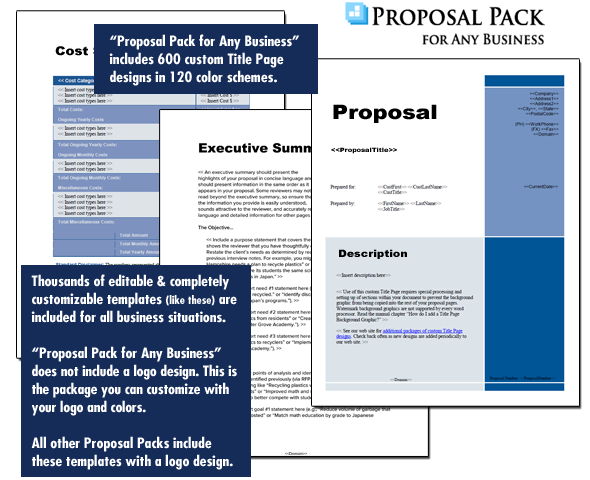 A proper business proposal will include multiple chapters. This is just one of many chapters that may be included in your proposal. The complete fill-in-the-blank template is included in our Proposal Pack template collections. A variety of sample proposals illustrating how companies in different industries both large and small have written proposals using our Proposal Packs are also included. This template will show you how to write the Mobility.
A wide variety of chapters are included and are intended to be picked based on your needs. All proposals are different and have different needs and goals. Pick the collection of chapters from our collection and organize them as needed for your proposal. Recommendations and samples provided are only intended as general guidelines.
Using the Proposal Pack template library you can create any kind of business proposal, report, study, plan or document
such as these
.
How to write my Mobility document
Use this page to discuss the topic of mobility the ability to move from place to You might want to discuss the portability of devices processes ideas or even personnel. For example many education courses these days are mobile in that they are offered over internet connections and may be connected with multiple educational facilities or libraries. Were all familiar with mobile phones and computers that use wireless networks to communicate. You may be offering particular service in which mobility is important such as specialized equipment repair services for which repair personnel must travel to disabled equipment in the field. Or you might even be proposing type of business that can operate in many different locales. Introduce the topic of mobility here and explain its importance in the context of your proposal. Does mobility set your products services or ideas apart from your competitors. Describe how. Describe here the features that make your devices processes or personnel teams mobile. If pertinent explain what must be done to move from place to place. Does equipment need to be disassembled and shipped. Do facilities need to be readied in the new locale. Describe what must happen to make each move success.
A Document from Proposal Pack

The editable Mobility template - complete with the actual formatting, layout and graphics is available in the retail Proposal Packs.