This chapter template is included in every Proposal Pack along with thousands more chapter templates.
Order and download for $79.

DOWNLOADABLE, ONE-TIME COST, NO SUBSCRIPTION FEES
Use this template to focus on a specific topic, person, or product and highlight that topic, person, or product as a special feature set apart from everything else. Many publications have a type of 'featured this month/this issue' sort of section.
I have been using this software for a few years now and am so grateful for its presence in my life!! I appreciate the well written and thought out templates and the execution of such materials that help me to obtain my personal and business goals. I give this product and the developers a 5 star rating without hesitation!"
Ariana Cardenas Stugard
Ariflower Images
Produced by:
Proposal Kit
Category:
Software › Computer Software › Business & Productivity Software

4.9 stars, based on
823 reviews
Related chapters may be used in conjunction with this chapter depending on your situation. Many related chapters are intended to be used together to form a more complex and integrated proposal.

Related Chapters: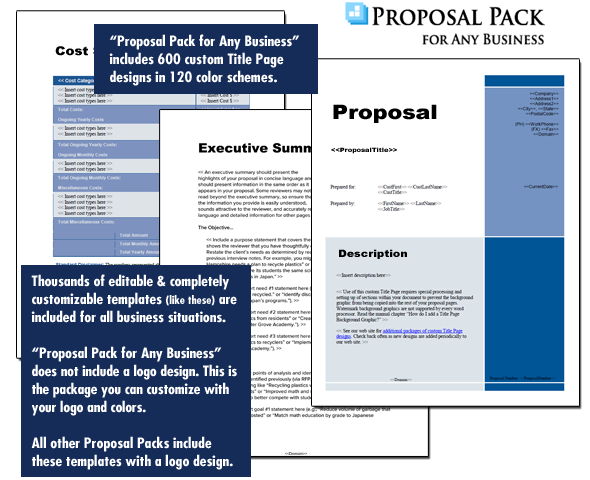 A proper business proposal will include multiple chapters. This is just one of many chapters that may be included in your proposal. The complete fill-in-the-blank template is included in our Proposal Pack template collections. A variety of sample proposals illustrating how companies in different industries both large and small have written proposals using our Proposal Packs are also included. This template will show you how to write the Spotlight.
A wide variety of chapters are included and are intended to be picked based on your needs. All proposals are different and have different needs and goals. Pick the collection of chapters from our collection and organize them as needed for your proposal. Recommendations and samples provided are only intended as general guidelines.
Using the Proposal Pack template library you can create any kind of business proposal, report, study, plan or document
such as these
.
How to write my Spotlight document
Use this template to focus on specific topic person or product and highlight that topic person or product as special feature set apart from everything else. Many publications have type of " featured this month this issue" sort of section. Provide background as needed to explain to your readers the reasons for this particular focus and then write an introduction to the topic person or product featured e. g. " This month the spotlight is on. " Name of topic person or product e. g. " New Games for Kids" or " Margie Reddick" or " XYZ Security Software Package" Description Describe why you have chosen to feature this topic person or product. Additional Information Provide any more information you believe your readers need to know.
A Document from Proposal Pack

The editable Spotlight template - complete with the actual formatting, layout and graphics is available in the retail Proposal Packs.