This chapter template is included in every Proposal Pack along with thousands more chapter templates.
Order and download for $79.

DOWNLOADABLE, ONE-TIME COST, NO SUBSCRIPTION FEES
The Testing Plan template is used to describe the various testing methodologies that will be used, and how and when the testing will be integrated with the rest of the schedules.
Thanks again! I really like this wizard. It will make my next few days much more bearable!"
Terry Kerns
Produced by:
Proposal Kit
Category:
Software › Computer Software › Business & Productivity Software

4.9 stars, based on
821 reviews
Related chapters may be used in conjunction with this chapter depending on your situation. Many related chapters are intended to be used together to form a more complex and integrated proposal.

Related Chapters: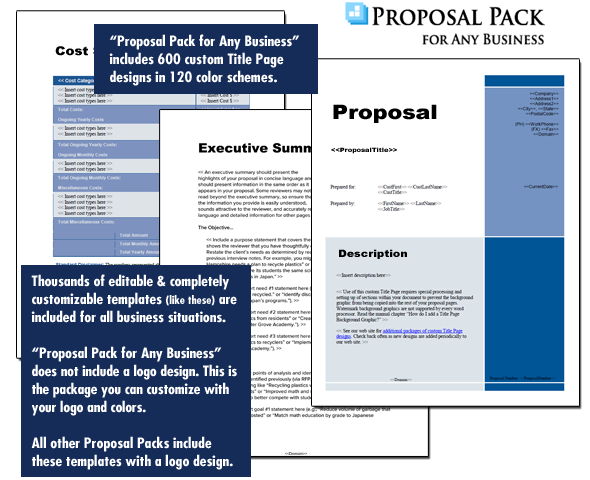 A proper business proposal will include multiple chapters. This is just one of many chapters that may be included in your proposal. The complete fill-in-the-blank template is included in our Proposal Pack template collections. A variety of sample proposals illustrating how companies in different industries both large and small have written proposals using our Proposal Packs are also included. This template will show you how to write the Testing Plan.
A wide variety of chapters are included and are intended to be picked based on your needs. All proposals are different and have different needs and goals. Pick the collection of chapters from our collection and organize them as needed for your proposal. Recommendations and samples provided are only intended as general guidelines.
Using the Proposal Pack template library you can create any kind of business proposal, report, study, plan or document
such as these
.
How do you write a Testing Plan document?
Testing plans are critical to the success of our projects. Testing is integrated into our project development from start to finish and is an integral part of our quality control system. Design of Testing Plan Insert how your testing plan will be designed for this project Evaluation of Testing Plan Insert how your testing plan will be evaluated to ensure the validity of the tests Testing Schedule Insert the testing schedule and how it relates to the Development Schedule and Installation Schedule. Testing steps are usually built into the overall Project Development Schedule
Testing Tools Insert the tools such as physical equipment software and personnel used Problem Reporting Tracking and Resolution Insert information about how problems found during testing are reported tracked resolved and re tested Testing Methodologies Used Insert information on the various testing methodologies used Unit Testing
Integration Testing Stress Testing Regression Testing Usability Testing Alpha and Beta Testing Acceptance Testing
Disclaimers Insert disclaimers regarding the testing procedures. Normally testing is designed to find as many problems as possible however complex systems will virtually always have unforeseen problems occur even after all testing has been completed. After testing is complete and the project has been tested and accepted by the client problems may still occur. A separate Disclaimer template may also be included in your proposal
A Document from Proposal Pack

The editable Testing Plan template - complete with the actual formatting, layout and graphics is available in the retail Proposal Packs.