This 23 page layout is included with Proposal Pack. Create variations of this document of any length to suit your specific needs.
Order and download for $79.

DOWNLOADABLE, ONE-TIME COST, NO SUBSCRIPTION FEES
This set of templates was selected to create a report for a potential mining operation.

You can also create countless variations of this document to suit your specific needs using the included library of 2000+ chapters.
first big contract using your Proposal Pack. Thank you! I'm the epitome of "small business" (there are just 2 of us) and your proposal pack helped me put together a very professional looking proposal."
Cami Brumburgh
NNIS
Produced by:
Proposal Kit
Category:
Software › Computer Software › Business & Productivity Software

4.9 stars, based on over
700 reviews
The following 23 chapters are used in this document: Title Page, Table of Contents, Introduction, Natural Resources, Analysis, Approach, Refining, Extraction, Development, Zoning, Regulations, Vehicles, Equipment, Community, Coordination, Ecosystem, Rejuvenation, Recommendations, Conclusions, References, Studies, Surveys, Back Page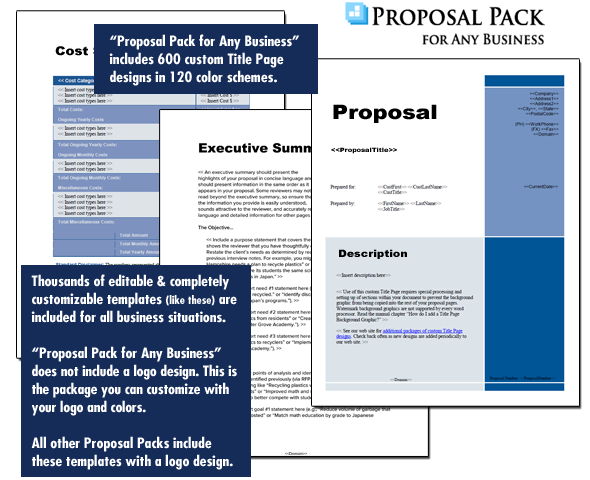 This proposal is commonly used for:
Business document, study, plan, report
Nature, environmental proposal
Energy proposal
mine, assess, situation, study
You can create this document using any of the logo designed
Proposal Packs
. Pick any Proposal Pack that has a logo design theme you personally like best, they all will work equally well. The Proposal Pack for Any Business is the pack with no extra added logos or colors - designed to be used plain or for you to customize with your own logos and graphics. The Proposal Pack design theme you purchase will determine what the visual look of this template will be. The screenshot above only shows the plain generic design theme.
A wide variety of chapters are included and are intended to be assembled based on your needs. All proposals are different and have different needs and goals. Proposal Pack is designed so you can customize the documents to suit your needs. This document is best created using the Proposal Pack Wizard - Expert Edition software to select this template and build it in the
Proposal Pack logo design theme
of your choice along with any desired customizations (such as adding additional chapters, removing unneeded chapters, changing the order of chapters, importing your company logo, etc.). This template is an outline for a proposal that can be used for the described situation. It is each individual users responsibility to type in the actual content of the provided pages with their own information to complete the proposal. This template is created using Proposal Pack either manually by assembling the chapters or automatically by using the Wizard software. The Expert Edition of the software is included in the Proposal Kit Professional bundle.