This chapter template is included in every Proposal Pack along with thousands more chapter templates.
Order and download for $79.

DOWNLOADABLE, ONE-TIME COST, NO SUBSCRIPTION FEES
The Benchmark Results template is used to provide technical details of equipment used in the proposal.
This product has saved us so much time and energy and helped us produce professional extremely high quality proposals that look great. The upgrades are even better and it's obvious these guys have worked hard to make Proposal Pack Wizard even better and now I don't even have to hire a graphic designer so it's saving me even more money. I couldn't recommend this Pack more highly. Anyone putting out regular documentation, submissions, proposals, etc, would be nuts not to buy it."
Mich Gannaway
Business Development Manager at Morcodian Pty Ltd
Australia
Produced by:
Proposal Kit
Category:
Software › Computer Software › Business & Productivity Software

4.9 stars, based on
837 reviews
Alternate chapters are those which may be used instead of this chapter depending on your situation. Alternate chapters may be better suited for different size projects, more specialized projects, variations on rights, etc.

Alternate Chapters:
This template is illustrated in actual use in the following Sample Proposals. Samples are also included in each Proposal Pack and illustate many of the industries and situations this template can be used for: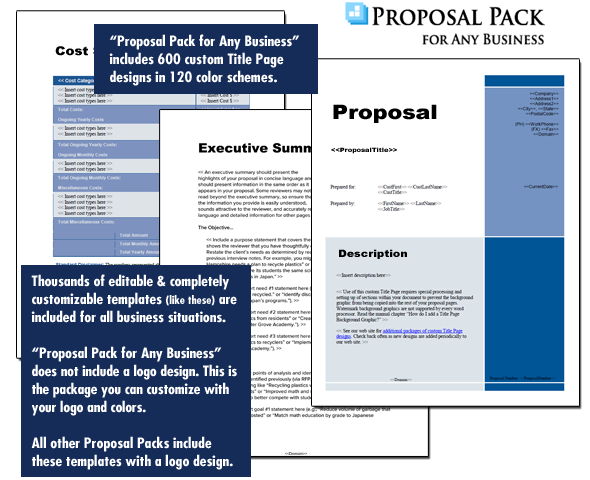 A proper business proposal will include multiple chapters. This is just one of many chapters that may be included in your proposal. The complete fill-in-the-blank template is included in our Proposal Pack template collections. A variety of sample proposals illustrating how companies in different industries both large and small have written proposals using our Proposal Packs are also included. This template will show you how to write the Benchmark Results.
A wide variety of chapters are included and are intended to be picked based on your needs. All proposals are different and have different needs and goals. Pick the collection of chapters from our collection and organize them as needed for your proposal. Recommendations and samples provided are only intended as general guidelines.
Using the Proposal Pack template library you can create any kind of business proposal, report, study, plan or document
such as these
.
How to write my Benchmark Results document
As with any solution companies want only the " best of breed". Company name offers this by fulfilling your requirements and surpassing your needs. To adequately show reasons your proposal should be chosen over other options you will need to establish benchmarks by which the proposed solutions can be measured and judged. By showing your solution as best fit you are establishing the difference between yourself and the competition Include graphics or pictures if available and allowed Discuss advantages and benefits Although converting from the current system used by Company name would involve an investment of Insert estimated project cost the end result is expected to return approximately Insert expected ROI This would allow for quicker employee training and an improved employee moral due to improved processes. Discuss the likelihood of the projects success using your solution Company name has analyzed the before and after effects of this project. Our data shows an increase in productivity of Insert percentage increase and user error decreased by Insert percentage decrease The overall cost savings at this rate would be approximately Insert savings per year.
A Document from Proposal Pack

The editable Benchmark Results template - complete with the actual formatting, layout and graphics is available in the retail Proposal Packs.