This chapter template is included in every Proposal Pack along with thousands more chapter templates.
Order and download for $79.

DOWNLOADABLE, ONE-TIME COST, NO SUBSCRIPTION FEES
The Counter Proposal Letter (Verbose) is intended to be sent to a proposal recipient who has declined your proposal. Use this letter to make a counter to the declined proposal and state your reasons why your proposal should be reconsidered. The counter proposal letter can be as stand-alone letter, or accompanied by a revision to the proposal.
It's a great product for those who are new to proposal writing. Great templates that are easy to manipulate."
Brian Norris
COO at Norris Professional Services, Incorporated
Produced by:
Proposal Kit
Category:
Software › Computer Software › Business & Productivity Software

4.9 stars, based on
830 reviews
Alternate chapters are those which may be used instead of this chapter depending on your situation. Alternate chapters may be better suited for different size projects, more specialized projects, variations on rights, etc.

Alternate Chapters:
Related chapters may be used in conjunction with this chapter depending on your situation. Many related chapters are intended to be used together to form a more complex and integrated proposal.

Related Chapters: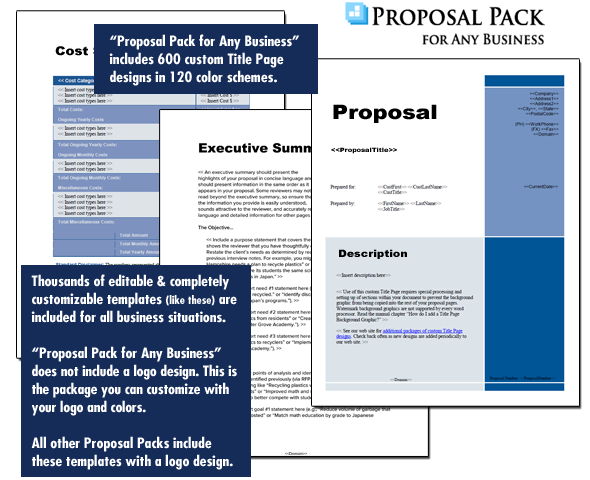 A proper business proposal will include multiple chapters. This is just one of many chapters that may be included in your proposal. The complete fill-in-the-blank template is included in our Proposal Pack template collections. A variety of sample proposals illustrating how companies in different industries both large and small have written proposals using our Proposal Packs are also included. This template will show you how to write the Counter Proposal Letter (Verbose).
A wide variety of chapters are included and are intended to be picked based on your needs. All proposals are different and have different needs and goals. Pick the collection of chapters from our collection and organize them as needed for your proposal. Recommendations and samples provided are only intended as general guidelines.
Using the Proposal Pack template library you can create any kind of business proposal, report, study, plan or document
such as these
.
How to write my Counter Proposal Letter (Verbose) document
Current date First name Last name Job title Company name Address Address City State or province Zip or postal code Salutation Last name
Thank you for your input on the original proposal we submitted for reference RFP and project name We have considered all your comments and have made appropriate changes in this counter proposal. Please note especially the changes to schedule and pricing included in this revised proposal packet. Briefly state the differences between your original proposal and this counter proposal and reference specific sections that have changed. Be specific about how changes you have made in schedule pricing and other details will positively affect this customer. If you have revised the actual proposal include the Revisions template to highlight the specific changes to the proposal. Remind the customer of your qualifications and restate why you are uniquely qualified to fulfill the requirements of this proposal. Be sure to include any awards you have recently won any new certifications earned and any important new clients or contracts you have won since you last communicated with this customer. You might want to include references to any positive publicity you have recently had or to any advertising plans for the future that would reflect positively on this customer if partnered with your organization. This proposal is valid for state time period Feel free to contact name the primary contact person for this proposal at your organization at insert phone number and or email address here to discuss any questions or concerns you may have about the information enclosed here. We take pride in being able to offer you this improved proposal and we look forward to working with you. We will schedule follow up call with you next week to discuss the revisions. Sincerely First name Last name Job title Company name
Phone number E mail address Web site domain URL
A Document from Proposal Pack

The editable Counter Proposal Letter (Verbose) template - complete with the actual formatting, layout and graphics is available in the retail Proposal Packs.