This chapter template is included in every Proposal Pack along with thousands more chapter templates.
Order and download for $79.

DOWNLOADABLE, ONE-TIME COST, NO SUBSCRIPTION FEES
Use the Follow-up Status Request Letter after a proposal has been submitted. This letter is typically used when you have not heard back from a prospect after submitting a proposal.
Very pleased with the purchase by the way - helpful software."
Matt
Produced by:
Proposal Kit
Category:
Software › Computer Software › Business & Productivity Software

4.9 stars, based on
823 reviews
Related chapters may be used in conjunction with this chapter depending on your situation. Many related chapters are intended to be used together to form a more complex and integrated proposal.

Related Chapters: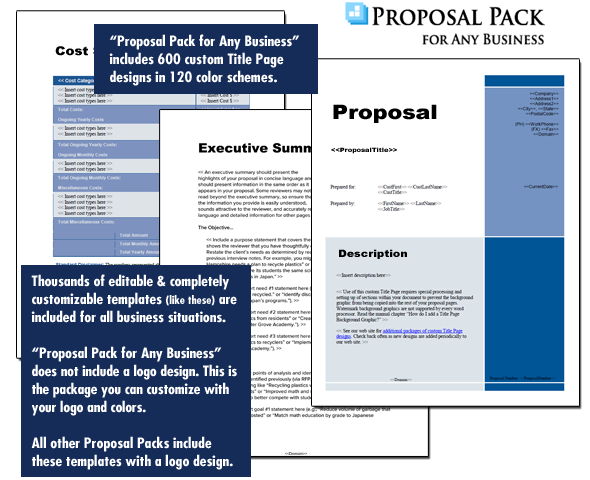 A proper business proposal will include multiple chapters. This is just one of many chapters that may be included in your proposal. The complete fill-in-the-blank template is included in our Proposal Pack template collections. A variety of sample proposals illustrating how companies in different industries both large and small have written proposals using our Proposal Packs are also included. This template will show you how to write the Follow-up Status Request Letter.
A wide variety of chapters are included and are intended to be picked based on your needs. All proposals are different and have different needs and goals. Pick the collection of chapters from our collection and organize them as needed for your proposal. Recommendations and samples provided are only intended as general guidelines.
Using the Proposal Pack template library you can create any kind of business proposal, report, study, plan or document
such as these
.
How to write my Follow-up Status Request Letter document
Current date First name Last name Job title Company name Address
Address City State or province Zip or postal code RE. Proposal " Proposal title" Salutation Last name As you know we recently sent you proposal entitled " Proposal title. " appreciate the opportunity to present this proposal to you for your review and consideration. Thank your prospect for the opportunity to submit proposal. Because insert time since submission days have passed since the proposal was submitted and we have not heard back from you am writing to determine the status of the proposal. Please contact me at your convenience. Whenever possible interview the prospect to determine why your proposal failed to win the project or how it could have been improved if that is why you did not get the desired response. Refer to the Post Proposal Analysis Checklist included in Proposal Pack to prepare your interview questions. If appropriate request an opportunity to submit reworked proposal. Mention any additional factors that might persuade them to accept your improved proposal. It may be counterproductive to request status updates on the proposal acceptance more than once. Attempt to gather any information you can to fix any mistakes and assist in your next proposal submission. If you do not receive status or feedback from the prospect remember that this could be caused by many factors outside of your control.
Sincerely First name Last name Job title Company name Phone number E mail address Web site domain URL
A Document from Proposal Pack

The editable Follow-up Status Request Letter template - complete with the actual formatting, layout and graphics is available in the retail Proposal Packs.