This chapter template is included in every Proposal Pack along with thousands more chapter templates.
Order and download for $79.

DOWNLOADABLE, ONE-TIME COST, NO SUBSCRIPTION FEES
Use this template to summarize the information included in your proposal to sell the government goods or services.
Thanks to the thoroughness and professionalism Proposal Pack provides we are now closing more than 80% of the critical deals necessary for the growth of our company."
iGuide Media
Brian Noon
President
Produced by:
Proposal Kit
Category:
Software › Computer Software › Business & Productivity Software

4.9 stars, based on
837 reviews
Related chapters may be used in conjunction with this chapter depending on your situation. Many related chapters are intended to be used together to form a more complex and integrated proposal.

Related Chapters:
This template is illustrated in actual use in the following Sample Proposals. Samples are also included in each Proposal Pack and illustate many of the industries and situations this template can be used for: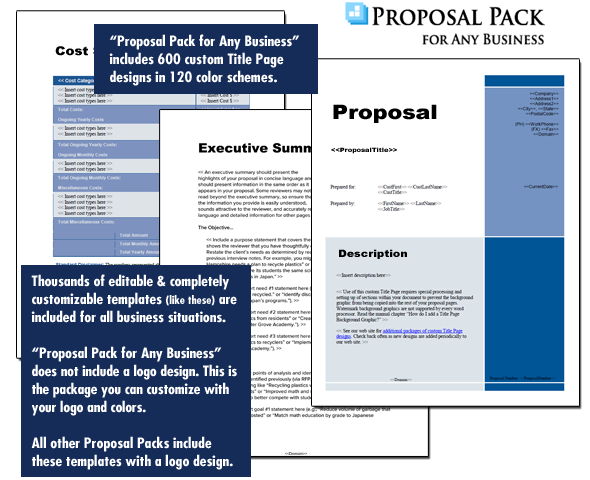 A proper business proposal will include multiple chapters. This is just one of many chapters that may be included in your proposal. The complete fill-in-the-blank template is included in our Proposal Pack template collections. A variety of sample proposals illustrating how companies in different industries both large and small have written proposals using our Proposal Packs are also included. This template will show you how to write the Cover Sheet (Government Contracts).
A wide variety of chapters are included and are intended to be picked based on your needs. All proposals are different and have different needs and goals. Pick the collection of chapters from our collection and organize them as needed for your proposal. Recommendations and samples provided are only intended as general guidelines.
Using the Proposal Pack template library you can create any kind of business proposal, report, study, plan or document
such as these
.
How do you write a Cover Sheet (Government Contracts) document?
GENERAL SERVICES ADMINISTRATION Federal Supply Service Authorized Federal Supply Schedule Price List Use this template to summarize the information included in your proposal to sell the government goods or services. Note that if you have many Special Item Numbers youll probably want to use the Awarded SINs template to list them on separate sheet. Note that government agencies may change their required information and forms at any time. Check the appropriate web site such as www. gsaelibrary. gsa. gov or www. GSAAdvantage. gov for the latest requirements.
Schedule Number Job title of signator authorized signature or signer. Insert schedule number and title here. Schedule Items. Insert Special Item Number and title here SIN & Title #2 SIN & Title #3 Business Name. Company name
Address. Address Address Address3 City State or province Zip or postal code Phone. Phone number Fax. Fax number
Website. Web site domain URL Email. E mail address Contract Administrator. First name Last name Company Description. Insert brief description of your company and offerings. Size of Business. Insert description of the size of your business. For ordering information products prices terms and conditions etc. see insert website URL for ordering information here FSC Group. Insert FSC Federal Supply number here.
FSC Class Product code Other Codes CAGE NAICS etc. Insert codes here. Contract Number. Contract reference number Contract Period. Start date to End date Contract Effective Date EffectiveDate Price List Effective Date EffectiveDate DUNS #. Insert DUNS Data Universal Numbering number here.
A Document from Proposal Pack

The editable Cover Sheet (Government Contracts) template - complete with the actual formatting, layout and graphics is available in the retail Proposal Packs.