This chapter template is included in every Proposal Pack along with thousands more chapter templates.
Order and download for $79.

DOWNLOADABLE, ONE-TIME COST, NO SUBSCRIPTION FEES
Use the Fundraising template to describe how you propose to raise funds for your organization or your client's project. Fundraising refers to acquiring money (such as grants or donations) for non-commercial efforts.
Proposal Pack is absolutely AWESOME. It saves me a ton of time when I am responding to RFPs for my Destination Management Company. Once you get the initial documents set up it takes no time to go in and make a few changes. Try it out. I'm sure you'll love it."
Antwone Stigall
Events With EAS
Produced by:
Proposal Kit
Category:
Software › Computer Software › Business & Productivity Software

4.9 stars, based on
830 reviews
Related chapters may be used in conjunction with this chapter depending on your situation. Many related chapters are intended to be used together to form a more complex and integrated proposal.

Related Chapters: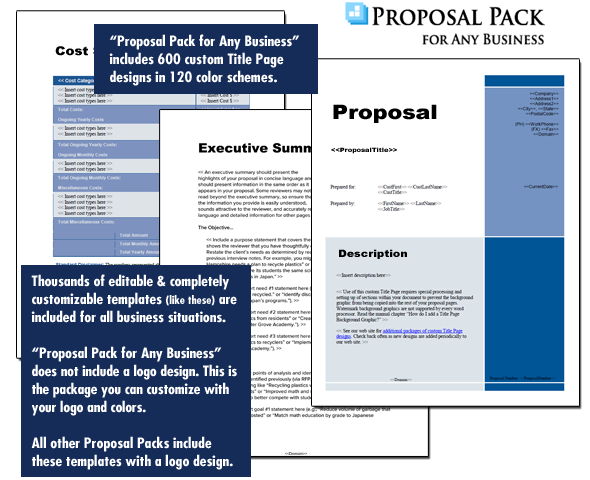 A proper business proposal will include multiple chapters. This is just one of many chapters that may be included in your proposal. The complete fill-in-the-blank template is included in our Proposal Pack template collections. A variety of sample proposals illustrating how companies in different industries both large and small have written proposals using our Proposal Packs are also included. This template will show you how to write the Fundraising.
A wide variety of chapters are included and are intended to be picked based on your needs. All proposals are different and have different needs and goals. Pick the collection of chapters from our collection and organize them as needed for your proposal. Recommendations and samples provided are only intended as general guidelines.
Using the Proposal Pack template library you can create any kind of business proposal, report, study, plan or document
such as these
.
How do you write a Fundraising document?
Use this template to describe how you propose to raise funds for your organization or your clients project. Fundraising refers to acquiring money such as grants or for non commercial efforts. The Challenge Describe why you want to make money and the amount of money you hope to raise. If theres specific deadline include that too. Plans Describe your ideas for raising funds. For example you may want to describe ticketed events sales of donated goods applications for grants how you will solicit donations and so forth. Be as specific as possible. If you are planning multiple methods of fundraising you may need to add subheadings to this category.
Legal Considerations Most fundraising efforts have restrictions imposed by state or even national regulations. For example the organization may need to be officially recognized by the government as nonprofit group or there may be restrictions on the amount of money that can be raised or the types of activities that can be used for fundraising. Discuss your charitable status and any restrictions here. Results Discuss how monies raised will be handled and accounted for including names of individuals and institutions that will be responsible for maintaining the accounts. If you are aiming for specific amount you may also want to describe what will happen if your fundraising efforts fall short or result in more money than expected. Add summary here and ask for comments volunteers or donations. Be sure to provide contact information as needed. Web site domain URL
A Document from Proposal Pack

The editable Fundraising template - complete with the actual formatting, layout and graphics is available in the retail Proposal Packs.