This chapter template is included in every Proposal Pack along with thousands more chapter templates.
Order and download for $79.

DOWNLOADABLE, ONE-TIME COST, NO SUBSCRIPTION FEES
Use the Activism template to describe any sort of activism. This could be any sort of activity on the part of an organization or individuals that supports or promotes a particular cause.
I received a response stating all parties were extremely impressed. I will revise to include additional details and the non-disclosure form. I received a second request for a proposal and completed it earlier this week using Proposal Kit and Proposal Wizard."
Deborah Archer
Produced by:
Proposal Kit
Category:
Software › Computer Software › Business & Productivity Software

4.9 stars, based on
824 reviews
Related chapters may be used in conjunction with this chapter depending on your situation. Many related chapters are intended to be used together to form a more complex and integrated proposal.

Related Chapters:
This template is illustrated in actual use in the following Sample Proposals. Samples are also included in each Proposal Pack and illustate many of the industries and situations this template can be used for: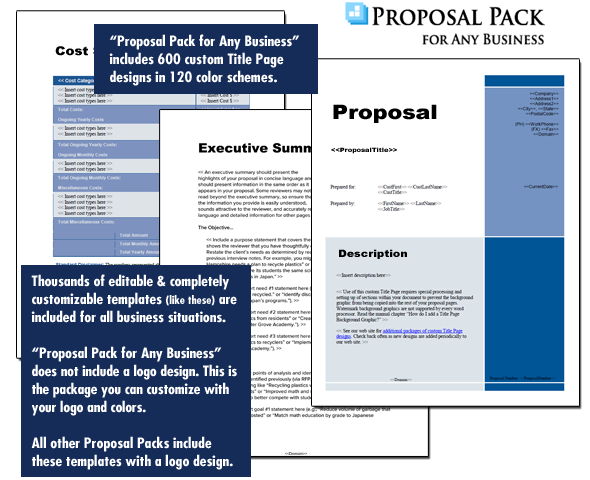 A proper business proposal will include multiple chapters. This is just one of many chapters that may be included in your proposal. The complete fill-in-the-blank template is included in our Proposal Pack template collections. A variety of sample proposals illustrating how companies in different industries both large and small have written proposals using our Proposal Packs are also included. This template will show you how to write the Activism.
A wide variety of chapters are included and are intended to be picked based on your needs. All proposals are different and have different needs and goals. Pick the collection of chapters from our collection and organize them as needed for your proposal. Recommendations and samples provided are only intended as general guidelines.
Using the Proposal Pack template library you can create any kind of business proposal, report, study, plan or document
such as these
.
How do you write a Activism document?
Use this template to describe any sort of activism. This could be any sort of activity on the part of an organization or individuals that supports or promotes particular cause. What We Do Describe the sort of activities you plan to undertake or have undertaken in the past and describe the causes you support. This could include anything from making donations or sponsoring an event to carrying out strikes or demonstrations to promote cause. Why We Do It Describe the reasons for activism and what you hope to achieve by supporting cause. How You Can Get Involved
Describe how others can get involved in supporting your causes. Can they donate volunteer time donate money or make their views known by writing letters circulating petitions making phone calls or posting signs.
A Document from Proposal Pack

The editable Activism template - complete with the actual formatting, layout and graphics is available in the retail Proposal Packs.