This chapter template is included in every Proposal Pack along with thousands more chapter templates.
Order and download for $79.

DOWNLOADABLE, ONE-TIME COST, NO SUBSCRIPTION FEES
The Future Developments template is used to describe how your company is planning on growing and expanding in the future. Include information about additional products and services that will be available for the client to benefit from.
I used the Proposal Kit to prepare my proposals while in my Bachelor's program. It was great. Very easy to use and I would recommend it to everyone."
Patty Clott
Produced by:
Proposal Kit
Category:
Software › Computer Software › Business & Productivity Software

4.9 stars, based on
812 reviews
Related chapters may be used in conjunction with this chapter depending on your situation. Many related chapters are intended to be used together to form a more complex and integrated proposal.

Related Chapters:
This template is illustrated in actual use in the following Sample Proposals. Samples are also included in each Proposal Pack and illustate many of the industries and situations this template can be used for: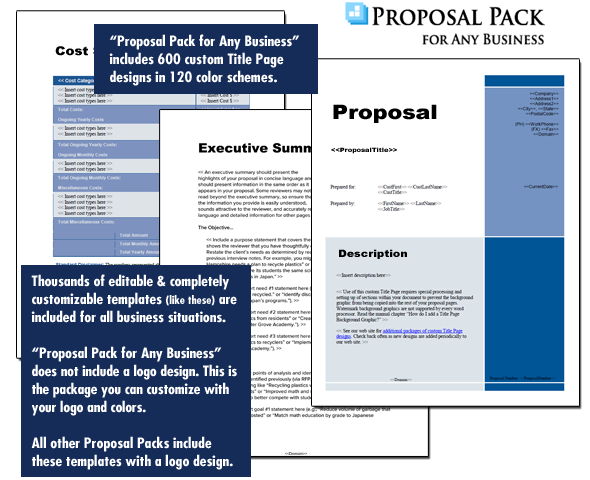 A proper business proposal will include multiple chapters. This is just one of many chapters that may be included in your proposal. The complete fill-in-the-blank template is included in our Proposal Pack template collections. A variety of sample proposals illustrating how companies in different industries both large and small have written proposals using our Proposal Packs are also included. This template will show you how to write the Future Developments.
A wide variety of chapters are included and are intended to be picked based on your needs. All proposals are different and have different needs and goals. Pick the collection of chapters from our collection and organize them as needed for your proposal. Recommendations and samples provided are only intended as general guidelines.
Using the Proposal Pack template library you can create any kind of business proposal, report, study, plan or document
such as these
.
How do you write a Future Developments document?
Insert summary of your company Mission Statement here. The primary goal is to show your company can serve the specific needs requested. You can elaborate on your company mission and purpose statements using the Mission Statement template Company name of City State or province is full service provider of Insert industry being serviced Services. Company name was established in Insert year established here We are committed to the highest standards of integrity excellence and performance in dealing with both client companies and prospective customers. Our mission is to be the best at identifying qualifying and delivering services for our clients. As specialists in our industry our team of professionals has the ability to understand the needs expectations and technical strengths of our clients. We know the clients industries and the people in those industries. We produce timely and effective results. Insert statement about your future growth plans if relevant to the specific project such as acquisitions hiring additional staff and opening new office locations Insert statement about your future product upgrades and new releases if relevant to the specific project
Be careful when citing forward looking statements about your company. If there is not clear relevance to this specific project do not deter the focus of mutual direction and compatibility
A Document from Proposal Pack

The editable Future Developments template - complete with the actual formatting, layout and graphics is available in the retail Proposal Packs.