This chapter template is included in every Proposal Pack along with thousands more chapter templates.
Order and download for $79.

DOWNLOADABLE, ONE-TIME COST, NO SUBSCRIPTION FEES
The Project Plan template is used to outline in a table format general information about the project, such as persons of interest, summary of the project plan, project goals, milestones, resources, resource procurement and plan risks. There are many other specific Proposal Pack templates you can use to expand on the tables and summaries with additional information.
I found Proposal Kit when I was looking for some pretty last minute solutions to help me prepare and organize a professional proposal (I am in the employee benefit/insurance industry). It was fast, easy and affordable. I was able to use the templates to quickly organize my proposal data and package in and attractive and professional looking format."
Holly Girgin
Produced by:
Proposal Kit
Category:
Software › Computer Software › Business & Productivity Software

4.9 stars, based on
830 reviews
Related chapters may be used in conjunction with this chapter depending on your situation. Many related chapters are intended to be used together to form a more complex and integrated proposal.

Related Chapters:
This template is illustrated in actual use in the following Sample Proposals. Samples are also included in each Proposal Pack and illustate many of the industries and situations this template can be used for: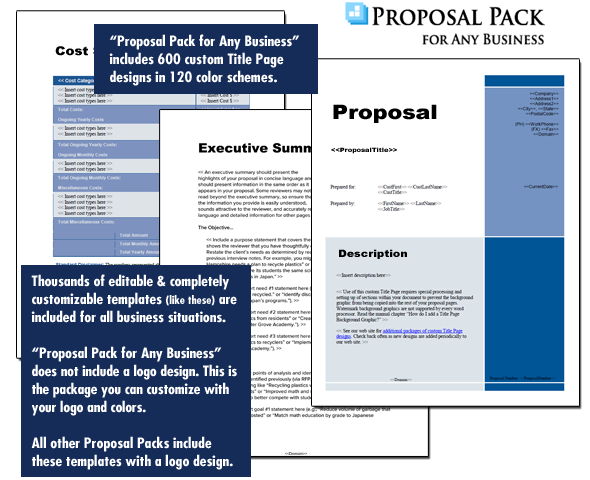 A proper business proposal will include multiple chapters. This is just one of many chapters that may be included in your proposal. The complete fill-in-the-blank template is included in our Proposal Pack template collections. A variety of sample proposals illustrating how companies in different industries both large and small have written proposals using our Proposal Packs are also included. This template will show you how to write the Project Plan.
A wide variety of chapters are included and are intended to be picked based on your needs. All proposals are different and have different needs and goals. Pick the collection of chapters from our collection and organize them as needed for your proposal. Recommendations and samples provided are only intended as general guidelines.
Using the Proposal Pack template library you can create any kind of business proposal, report, study, plan or document
such as these
.
How to write my Project Plan document
General Information Describe project title and date of plan as well as preparer. Project Name. Prepared By signator authorized signature or signer. Date.
Persons of Interest Contractor Information For each business involved in the project list all relevant details of the business itself then list all persons of interest involved in the project and their contact information. Business Name. Business Address. Phone. Business Contacts Name Title Phone Email Business Name.
Business Address. Phone. Business Contacts Name Title Phone Email Business Name. Business Address. Phone.
Business Contacts Name Title Phone Email Plan Summary Plan Description Describe the Project plan as it relates to the objectives in section of the Project Analysis Worksheet. Plan Goals For each project objective outlined in section of the Project Analysis Worksheet describe how the plan expects to complete each objective. Project Objective Plan Methodology Plan Milestone Summary
List all the projected milestones for the project plan the expected completion of each. Milestone Expected Completion Plan Resources Describe all resources needed in the plan to complete overall plan goals. The resource may be of any nature necessary to the completion of the plan. Resource Purpose Resource Procurement For each resource necessary to the plan as outlined above in describe the expected procurement costs as well as which milestone as outlined in the resource is necessary to achieve.
Resource Related Milestone Costs Plan Risks Describe the most relevant risks to the plans success in order of importance as they relate to the completion of the project and what backups should be in place to mitigate damage done to the project as whole. Risk Backup Plan 1
A Document from Proposal Pack

The editable Project Plan template - complete with the actual formatting, layout and graphics is available in the retail Proposal Packs.