This chapter template is included in every Proposal Pack along with thousands more chapter templates.
Order and download for $79.

DOWNLOADABLE, ONE-TIME COST, NO SUBSCRIPTION FEES
Use the Property template to list property. This could be real property (real estate), intellectual property, or personal property (other possessions). For example, you might need to make a list of property for insurance, inventory, or tax purposes.
Love the Proposal Pack. I'm able to write very professional proposals quickly. The myriad of available selections ensures you're prepared to write custom proposals for any situation. I've used this package to win several consulting bids, prepare an extensive business turnaround proposal, and to write a start-up business plan."
Jennifer Nybo-Byrd
President at Byrd Group, LLC.
Produced by:
Proposal Kit
Category:
Software › Computer Software › Business & Productivity Software

4.9 stars, based on
830 reviews
Alternate chapters are those which may be used instead of this chapter depending on your situation. Alternate chapters may be better suited for different size projects, more specialized projects, variations on rights, etc.

Alternate Chapters:
Related chapters may be used in conjunction with this chapter depending on your situation. Many related chapters are intended to be used together to form a more complex and integrated proposal.

Related Chapters:
This template is illustrated in actual use in the following Sample Proposals. Samples are also included in each Proposal Pack and illustate many of the industries and situations this template can be used for: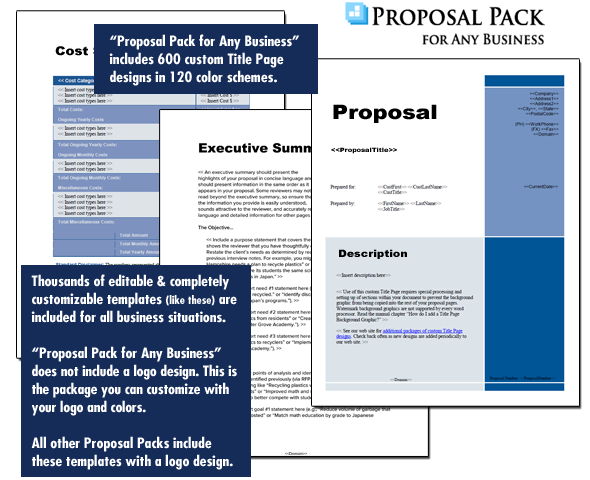 A proper business proposal will include multiple chapters. This is just one of many chapters that may be included in your proposal. The complete fill-in-the-blank template is included in our Proposal Pack template collections. A variety of sample proposals illustrating how companies in different industries both large and small have written proposals using our Proposal Packs are also included. This template will show you how to write the Property.
A wide variety of chapters are included and are intended to be picked based on your needs. All proposals are different and have different needs and goals. Pick the collection of chapters from our collection and organize them as needed for your proposal. Recommendations and samples provided are only intended as general guidelines.
Using the Proposal Pack template library you can create any kind of business proposal, report, study, plan or document
such as these
.
How to write my Property document
Use this template to list property. This could be real property real intellectual property or personal property other possessions. Introduce the purpose of this page here. For example you might need to make list of property for insurance inventory or tax purposes. Real Estate List all land and buildings owned. Be sure to provide any necessary details such as age and value of structures property identification information used by legal departments percentage of ownership etc. Intellectual Property List all copyrights patents and trademarks owned. If intellectual property rights are shared with others be sure to identify the other parties and explain percentages. Personal Property List all possessions including bank accounts stocks and bonds household goods and collectibles clothing jewelry livestock vehicles equipment and so forth. If personal property rights are shared with others be sure to identify the other parties and explain the ownership agreement.
If needed add summary statement. For example you might want to comment on the overall value of the property listed above. Web site domain URL
A Document from Proposal Pack

The editable Property template - complete with the actual formatting, layout and graphics is available in the retail Proposal Packs.