This chapter template is included in every Proposal Pack along with thousands more chapter templates.
Order and download for $79.

DOWNLOADABLE, ONE-TIME COST, NO SUBSCRIPTION FEES
Use this template to discuss the intellectual property rights you recognize and how you will protect them. This template can also be used to describe general information about the intellectual property of a company or related to a project.
I purchased the original version of this product back in 2013 when I started my consulting business. the product is great. I love that I don't have to start any given proposal from scratch- regardless of the type of service I'm providing or the industry. I recommend this product to anyone who has to write any types of proposals for business."
Ada Uribe
Erestar Inc.
Produced by:
Proposal Kit
Category:
Software › Computer Software › Business & Productivity Software

4.9 stars, based on
812 reviews
Alternate chapters are those which may be used instead of this chapter depending on your situation. Alternate chapters may be better suited for different size projects, more specialized projects, variations on rights, etc.

Alternate Chapters:
Related chapters may be used in conjunction with this chapter depending on your situation. Many related chapters are intended to be used together to form a more complex and integrated proposal.

Related Chapters:
This template is illustrated in actual use in the following Sample Proposals. Samples are also included in each Proposal Pack and illustate many of the industries and situations this template can be used for: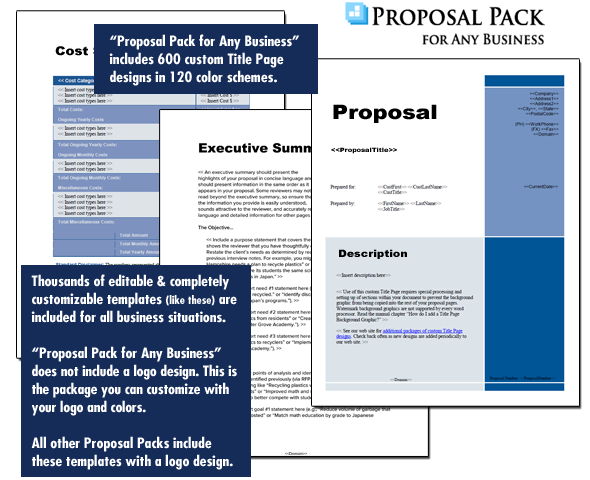 A proper business proposal will include multiple chapters. This is just one of many chapters that may be included in your proposal. The complete fill-in-the-blank template is included in our Proposal Pack template collections. A variety of sample proposals illustrating how companies in different industries both large and small have written proposals using our Proposal Packs are also included. This template will show you how to write the Intellectual Property.
A wide variety of chapters are included and are intended to be picked based on your needs. All proposals are different and have different needs and goals. Pick the collection of chapters from our collection and organize them as needed for your proposal. Recommendations and samples provided are only intended as general guidelines.
Using the Proposal Pack template library you can create any kind of business proposal, report, study, plan or document
such as these
.
Writing the Intellectual Property document
Company name recognizes that parties to this project possess certain intellectual property rights and promises to do the following to protect those rights. Include general statement here about the type of intellectual property rights to be protected and the value of those rights. Intellectual property rights pertain to nearly anything created by an entity including pieces of music any written work drawings paintings photos videos inventions symbols images and designs used in business. Intellectual property rights usually exist for any work wholly created by another whether or not these items have been fully copyrighted trademarked or patented. common exemption to this rule is that work created by an employee using employer resources on company time typically belongs to the employer and most employment contracts explicitly state this. Use this template to discuss the intellectual property rights you recognize and how you will protect them. For example if you use photographers photos for sales brochure you may have written contract with that photographer that includes an agreement to print the photographers name along with each photo. To fill in the Categories below you might state general category such as " Photos on Website" and then describe how you have agreed to treat that category and compensate the owner e. g. " All photos have been paid for in our contract and photographers name will accompany each photo used. " or you might enter the name of an entity that possesses specific intellectual property rights e. g. " John Inventor" and then describe those rights and how you will protect them e. g. " John Inventor owns the patent for the Economizer Unit included in our proposal and he will be duly recognized and compensated for this in the final contract. " Intellectual Property Right Category #1 Discuss this category of intellectual property rights and how you will identify and protect these rights. Intellectual Property Right Category #2
Discuss this category of intellectual property rights and how you will identify and protect these rights.
A Document from Proposal Pack

The editable Intellectual Property template - complete with the actual formatting, layout and graphics is available in the retail Proposal Packs.