This chapter template is included in every Proposal Pack along with thousands more chapter templates.
Order and download for $79.

DOWNLOADABLE, ONE-TIME COST, NO SUBSCRIPTION FEES
The System Requirements template is used to outline the technical system requirements of the project, such as minimum hardware and software. Typically this can be a restatement of the client's needs as a set of requirements.
Originally had little need to write proposals. But business has changed and has become more proposal-intensive. This kit has taken much work out of the writing for our employees. Thanks for making it simple!"
Ted Rogers
Produced by:
Proposal Kit
Category:
Software › Computer Software › Business & Productivity Software

4.9 stars, based on
824 reviews
Related chapters may be used in conjunction with this chapter depending on your situation. Many related chapters are intended to be used together to form a more complex and integrated proposal.

Related Chapters:
This template is illustrated in actual use in the following Sample Proposals. Samples are also included in each Proposal Pack and illustate many of the industries and situations this template can be used for: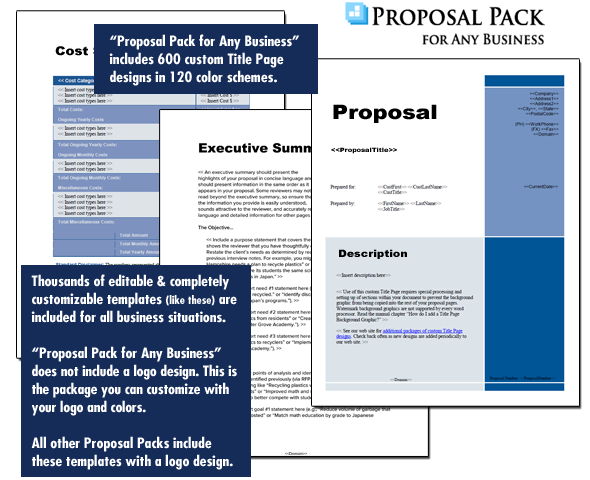 A proper business proposal will include multiple chapters. This is just one of many chapters that may be included in your proposal. The complete fill-in-the-blank template is included in our Proposal Pack template collections. A variety of sample proposals illustrating how companies in different industries both large and small have written proposals using our Proposal Packs are also included. This template will show you how to write the System Requirements.
A wide variety of chapters are included and are intended to be picked based on your needs. All proposals are different and have different needs and goals. Pick the collection of chapters from our collection and organize them as needed for your proposal. Recommendations and samples provided are only intended as general guidelines.
Using the Proposal Pack template library you can create any kind of business proposal, report, study, plan or document
such as these
.
How do you write a System Requirements document?
The following system requirements will be met to the satisfaction of Company name. The system requirements will cover all technical aspects of the project. Insert the specific technical system requirements of the project to be delivered. Examples include. performing to set of standards performing to set of metrics performing the required functions and system requirements for specific hardware and software needed etc. There is also more general Requirements template if needed to cover other requirements such as contractual requirements. There are many types of systems including mechanical electrical and software. Outline the list of system requirements as appropriate for the type of system being developed. Requirements Description. All following system requirements must be met. Insert summary of the system requirements here. System requirements include hardware platforms configurations software programs etc. The example below is for computer software system requirements including minimum and recommended requirement.
Processor. Minimum CPU speed required Recommended Operating System. Computer operating systems required Recommended Memory. Amount of computer memory required Recommended Storage. Amount of hard disk space required Recommended Drive. External media required such as CD ROM Recommended Display. Minimum screen type and size required Recommended Input. User input device required such as mouse Recommended
A Document from Proposal Pack

The editable System Requirements template - complete with the actual formatting, layout and graphics is available in the retail Proposal Packs.