Includes 2200+ editable templates
Customizable using your own logo and photos
Includes Novice Edition Proposal Software
Includes 600 graphic title page backgrounds
Extensive library of 200 sample proposals
Cover, inquiry and follow-up letters
Invoices, estimates, and costs
Work orders and general contracts
Non-disclosure protection forms
Financial templates and forms
Proposal development worksheets
Proposal writing manual
Government grant writing manual
Financial calculator spreadsheets
Buy this pack and get 70% off a second pack
Extensive library of 2200+ proposal chapters (Cover Letter, Title Page, Table of Contents, Executive Summary, Cost Summary, Recommendations, Contract and Terms, Events, Venue, Schedule of Events, Performers, Company History, etc.)
You will find the topics you need to write about: your reader (client, manager, investor, funder), your industry, your project, your products, your services, your financials, and your company or appendix information. Assemble just the topics you need to create your own unique proposal.
Business Proposals
Product Sales
Service Sales
Sales Letters
Educational Proposals
Technical Proposals
Non-Technical Proposals
Non-Profit Grant Proposals
Business Plans
Quotes and Contracts
Buying & Selling a Business
Business Documents
Information Packets
Invoices
Estimates
Book Proposals
Resumes
Letter Proposals
Project Proposals
Research Proposals
Local Govt. Grants
Federal Govt. Grants
Government Contracts
GSA Contracts
Request for Proposals
RFP Responses
Multilinqual Proposals
Complex Reports
Studies and Plans
Instruction Manuals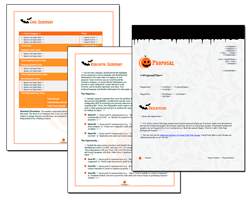 Licensed for 5 computers
One-time license cost - no monthly costs
Works for all businesses in all industries
Designed for small to medium sized businesses
Designed for individuals and teams
Topic library ensures you find what you need
Eye-catching Title Page designs
Self-guiding templates walk you step-by-step
200 completed samples help you write your own
Increase your odds of winning new business
Based on proposal writing best practices
Unique "Trust Based" proposal writing system
Downloadable - you can start now
Create proposals of any length
Create proposals in many languages
Create unlimited proposals at no extra cost
Create new documents and add your own
Add your own logo and customize layouts
Easily customize fonts using Word 'Styles'
Output in many formats - Word, PDF, HTML, etc.
Integrates with other business software
Includes editable artwork graphics
Wizard Software automates proposal creation
Completely customizable
Free product support
Write proposals and estimates on your iPad
Templates work with Windows, Mac & Linux
Wizard requires Microsoft Windows & Word
Also works with Windows in S Mode
Supports multiple operating systems
Supports multiple word processors
Not for use on smartphones or Chromebooks
268 MB installation size
Proposal Pack Wizard is very helpful in organizing the individual section of an effective proposal. By breaking the sections into pieces , it makes the effort more doable. Really like this product."
Lisa Harley
- TechSentials, Inc.
While the Proposal Kit Professional is our main product, a lower cost option is to get a single Proposal Pack design theme such as this one and optionally upgrade to the Professional bundle later if you need the extra contract content or more advanced software features.
Proposal Pack Wizard guides you with step-by-step numbers and prompts to select your design theme, enter your data, select your chapters, create your documents, and edit them for delivery.

Proposal Pack Wizard is a Microsoft Word for Windows Add-in accessed via the Word toolbar.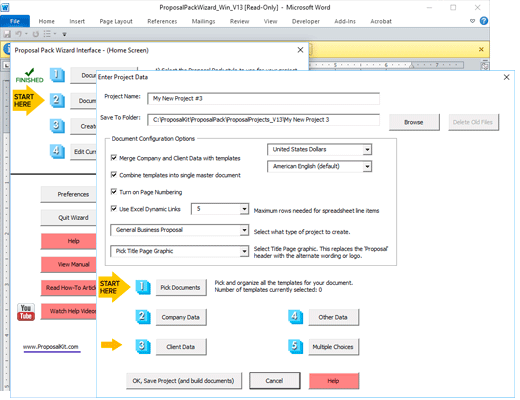 Configurable fast-access lists let you quickly check off the chapters to be assembled into your proposals, contracts and other business documents.

The Wizard gives you multiple configurable ways to manage your documents, such as fast-access checklists, presets, searching by name and building your documents from a library of hundreds of example business situations.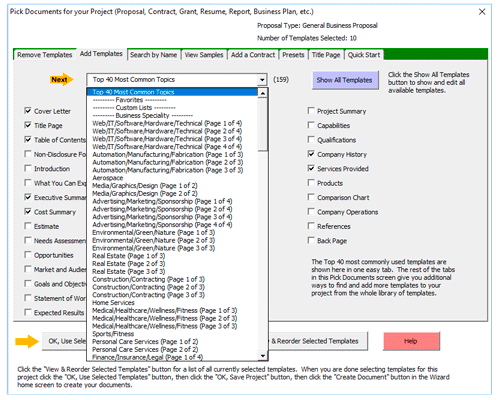 The Wizard includes a line-item database system for automation of quotes, schedules, and other business plan financials.

Novice Edition users have access to all premade line-item databases.

Expert Edition users can customize databases such as changing calculations and layouts as well as build their own custom line-item databases.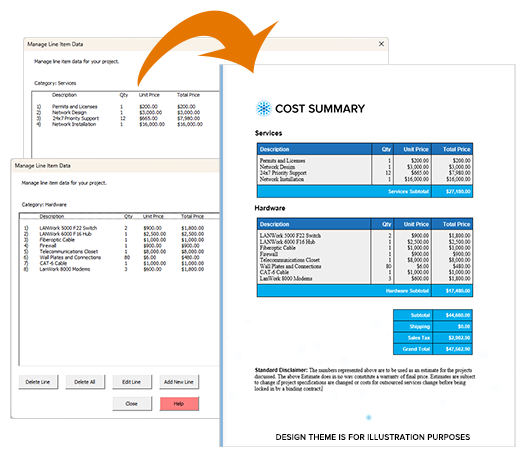 These Title Page, Recommendations, Cost Summary and Back Pages are just 4 of the 2200+ included pages. You can change the text, colors, fonts, logos and images.

By combining different combinations of pages like these from the 2200+ available you can create any type of business document. The rest of the included pages will have this same customizable visual design.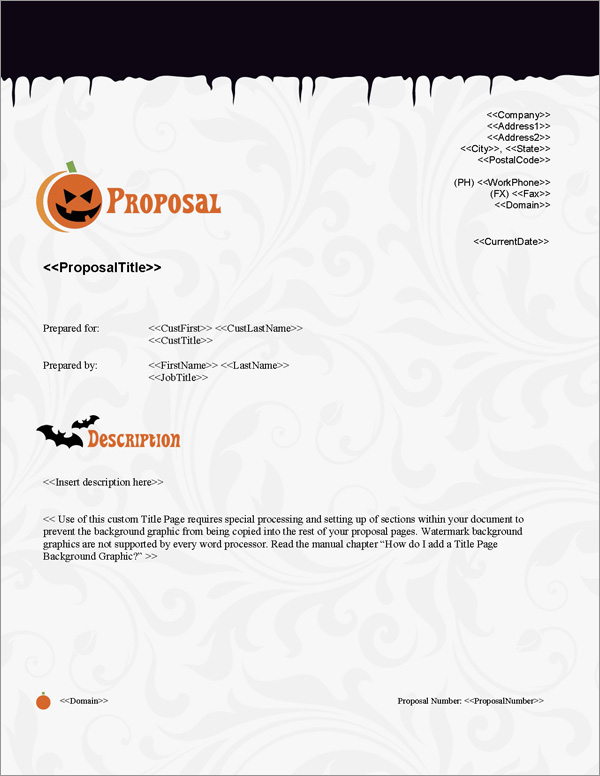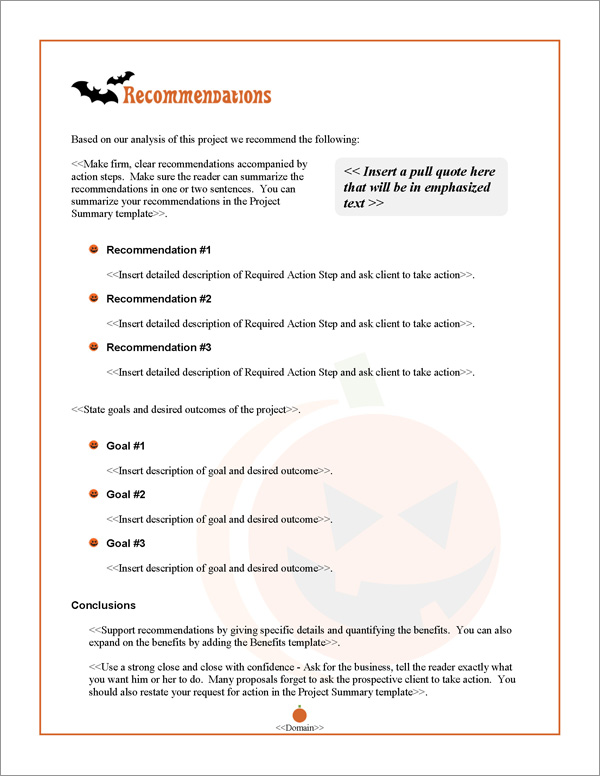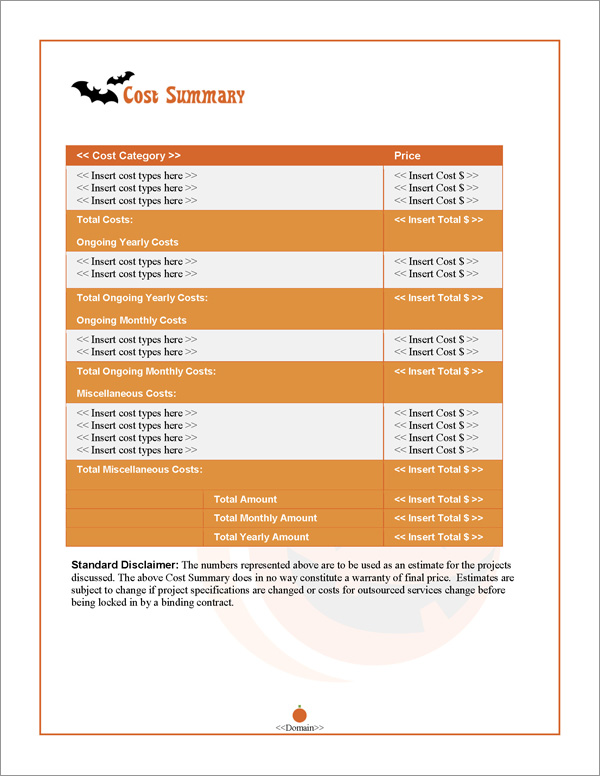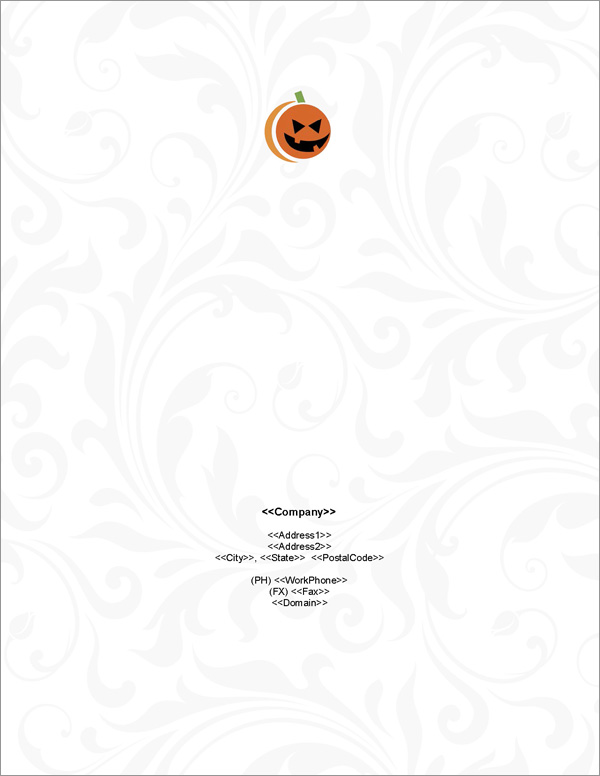 The templates are all editable Word format documents you can customize. The Proposal Pack Wizard helps automate customizing and assembling documents.
This Halloween carved pumpkin design will illustrate your holiday themed proposal and business documents.
Used by all types of businesses and individuals for writing proposals with a Halloween holiday design theme. This design uses a carved pumpkin design.
This Proposal Pack uses the font type "Heavy Leap".




Q:

What is the difference between Proposal Pack Seasonal #1 and the others?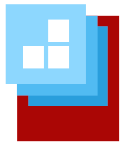 Proposal Pack Seasonal #1 is a specialty graphic logo design which accents our entire collection of over 2200 business proposal templates. You get a custom design theme consistently integrated through every page of your proposal. We have done most of the work for you already - pre-written proposal letters, contracts and documents complete with graphic designs and title page backgrounds and sample proposals which show you how to create your own.

Use the templates as-is, edit the graphics for a custom look and use the optional Proposal Pack Wizard automation software to master your business proposal writing.

Design elements in the Proposal Pack templates such as colored borders can be easily changed in your word processor. You can change the size, shape and color of the borders, fonts, tables and other elements.

Other design elements such as logos, body watermark graphics, custom bullet point graphics and Title Page graphic designs can also be customized. Proposal Packs include the original artwork graphics to make it easier for you to customize our Proposal Pack graphic themes. This type of customizing requires graphic design work using your own graphics editing software. We also provide services to customize Proposal Pack graphic themes.
Logos and images included in the Proposal Packs are general purpose and are designed for you to replace with your own logo and images. Stock photography and logos may not be used outside of the Proposal Pack templates for any other purpose.

Proposal Packs are downloadable after ordering. Platforms supported include Microsoft Windows, Mac, Linux, Microsoft Word, Microsoft Office, OpenOffice, StarOffice, Word Perfect, Google Docs, iWork, Pages and Appleworks. Proposal Packs are for use with Microsoft Word for Windows or any other word processor than can open Microsoft Word documents.

You can output your completed documents in any format your word processor supports. For example, when using Word you can output in Word, PDF, HTML, XML and text formats. When using Pages on the Mac you can output in Word, PDF and Pages format.

Also includes many sample proposals, general project and service contracts and non-disclosure forms. Supports creating general business proposals, grant funding proposals, business plan funding proposals, book publishing proposals, letter proposals, government contracts, research proposals, resumes and other complex business documents. The library of included sample proposals covers many different types of proposals in many industries and are included as general guides and help information.

Designed for use by any type of business, small and large. Proposal Packs are the framework used to show your prospective clients who you are, what you can do, what you propose to do for them, and most importantly, how they will benefit from the product or service you provide. Each Proposal Pack includes over 5500 pages of templates, samples and instructions.
Product name:
Proposal Pack Seasonal #1
V20.0
Produced by:
Proposal Kit
Category:
Software › Computer Software › Business & Productivity Software

4.9

stars, based on

837

reviews
While you can use the Proposal Pack Seasonal #1 as a stand-alone collection of templates on any operating system or word processor, you get even more power and capabilities when it's combined with the
Proposal Pack Wizard Software.
The Novice Wizard software requires Word for Windows that can run macros. Wizard is not for use with Web/App edition of Word. It does not run natively on Mac. Because the included Novice Wizard is an optional component it is not required to use the templates. Preassembled templates ready to use are included for Mac users and Windows users who do not have Microsoft Word.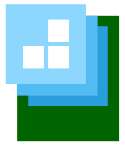 The entry level Novice Edition of the Wizard software is included with every Proposal Pack. You can add even more capabilities by upgrading to the Expert Edition. Upgrading to the Proposal Kit Professional Bundle is how you upgrade your software to the Expert Edition of the Wizard. The easiest ways to get the discounted Proposal Kit Professional upgrade is to order through the Novice Edition Wizard program and clicking the upgrade link or logging in to the My Orders page of the web site.
The Proposal Pack Wizard automates many tasks, such as helping you select templates for your specific business situation, merging contact information, preparing your cover letters, contracts, table of contents and much more. If you need even higher end features such as sophisticated database-driven quote and price calculations there are third-party add-on options for those capabilities.
Q:
I use a Mac. What if I can't run the Wizard software?
A:
The Wizard is optional and not required. There are multiple options for Mac users.
The Proposal Pack templates and documents work on all platforms including Mac. You can open the documents in Word for Mac, OpenOffice for Mac, etc. There is an interface that runs on a Mac browser to help navigate through all this content.
We already include several assembled documents for product and service sales proposals, business plans, grants, quotes, etc. ready to open and edit as-is on a Mac.
The Novice Wizard that comes with the individual Proposal Packs is an automation tool that is built using Word for Windows. Microsoft does not support its macro automation features on their Word for Mac. So, this interface is only used on Windows platforms. This interface is also mainly used to custom build short templates more efficiently. If you have access to a Windows computer running Word for Windows you can install it there, create custom templates then edit those templates on your Mac.
To assist Mac users who do not have any access to a Windows computer we will generate one custom template for you using any of our hundreds of document layouts. You can request this when you are ready after ordering and downloading the Proposal Pack.
Proposal Packs are designed for use by any business. The Proposal Packs are collections of proposal documents designed using industry standard guidelines. Our documents are pre-designed, complete with graphics, and are mail merge-enabled to automate fill-in of common fields (personal information, names and addresses).
We have already done the time consuming layout, design and graphics for you. Just fill in the blanks and easily create anything from a three-page small business proposal to an enterprise-class proposal hundreds of pages long.
The templates in "Proposal Pack Seasonal #1" have a distinct visual style integrated into them.
***
The free Proposal Pack offer with Proposal Kit Professional Bundle only applies to your first Proposal Pack. All others after the first are discounted 70% off. You only get one free Proposal Pack design.
your packs today and finished a business proposal in one day that would otherwise have taken me a week to do and the result was far more professional looking..."
Marty Demarest
summarize in the best of fashion all the finest practices for businesses in their dealings with customers, mostly because they remain focused on the client's solution, giving back to the customer the control over his project."
Ivan Stankovic