This chapter template is included in every Proposal Pack along with thousands more chapter templates.
Order and download for $79.

DOWNLOADABLE, ONE-TIME COST, NO SUBSCRIPTION FEES
The Acceptance Criteria template is used to outline how the client will be able to accept the project. Use this template to list all of the criteria that must be met in order for the final project to be accepted by the client when complete.
Extremely comprehensive. Good number of templates. Templates are very comprehensive. Ability to mix and match to suit purposes. Very professional results. Some templates can be a little complicated. An excellent package that produces extremely professional proposals and I would highly recommend it to anyone."
Michele Gannaway
Gryffyn Family Trust [Australia]
Produced by:
Proposal Kit
Category:
Software › Computer Software › Business & Productivity Software

4.9 stars, based on
830 reviews
Related chapters may be used in conjunction with this chapter depending on your situation. Many related chapters are intended to be used together to form a more complex and integrated proposal.

Related Chapters:
This template is illustrated in actual use in the following Sample Proposals. Samples are also included in each Proposal Pack and illustate many of the industries and situations this template can be used for: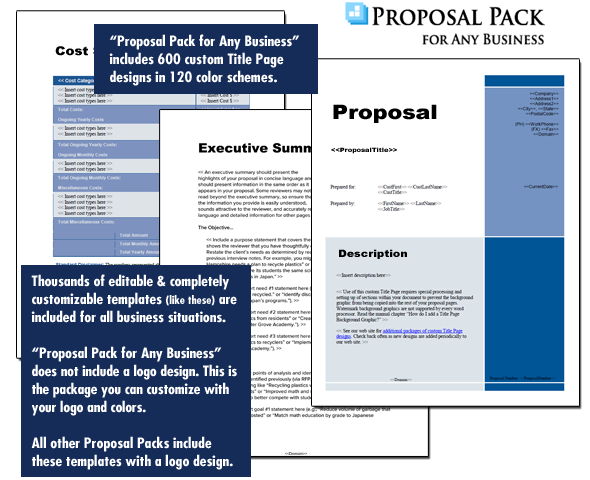 A proper business proposal will include multiple chapters. This is just one of many chapters that may be included in your proposal. The complete fill-in-the-blank template is included in our Proposal Pack template collections. A variety of sample proposals illustrating how companies in different industries both large and small have written proposals using our Proposal Packs are also included. This template will show you how to write the Acceptance Criteria.
A wide variety of chapters are included and are intended to be picked based on your needs. All proposals are different and have different needs and goals. Pick the collection of chapters from our collection and organize them as needed for your proposal. Recommendations and samples provided are only intended as general guidelines.
Using the Proposal Pack template library you can create any kind of business proposal, report, study, plan or document
such as these
.
Writing the Acceptance Criteria document
The following criteria must be met in order for the final project to be accepted. Company name will sign off on the following acceptance criteria at the completion of the project. The acceptance criteria the client will sign off on are to be listed here. Examples below are for illustration purposes. Note that you should have separate contractual agreement for the client to sign off on that the project is complete. Project Specifications All project specifications must be met as outlined in the proposal. Contractual Obligations All contractual obligations must be met as outlined in the contract and addendums. Documentation Completed All required documentation must be completed and delivered. Training Completed
All training of Company name personnel must be completed. Insert acceptance criteria here Insert acceptance criteria description here. Insert acceptance criteria here Insert acceptance criteria description here. Insert acceptance criteria here
Insert acceptance criteria description here.
A Document from Proposal Pack

The editable Acceptance Criteria template - complete with the actual formatting, layout and graphics is available in the retail Proposal Packs.