This chapter template is included in every Proposal Pack along with thousands more chapter templates.
Order and download for $79.

DOWNLOADABLE, ONE-TIME COST, NO SUBSCRIPTION FEES
The Business Plan Cover Letter is a plain text introduction, usually the first page of the proposal. It is a little more informal than the proposal to follow. Print this document on your company letterhead and signed by the President, Board Chair or other authorized executive. This version is meant for use with business plan proposals.
I had a very important sales proposal to prepare, and was given only a 1-day notice. The forms were perfect, and the presentation went great. We were told it was the best she had ever seen. Thanks for a great product, and for providing it in a pinch."
Kevin Onizuk
Managing Director/President
Produced by:
Proposal Kit
Category:
Software › Computer Software › Business & Productivity Software

4.9 stars, based on
824 reviews
Alternate chapters are those which may be used instead of this chapter depending on your situation. Alternate chapters may be better suited for different size projects, more specialized projects, variations on rights, etc.

Alternate Chapters:
This template is illustrated in actual use in the following Sample Proposals. Samples are also included in each Proposal Pack and illustate many of the industries and situations this template can be used for: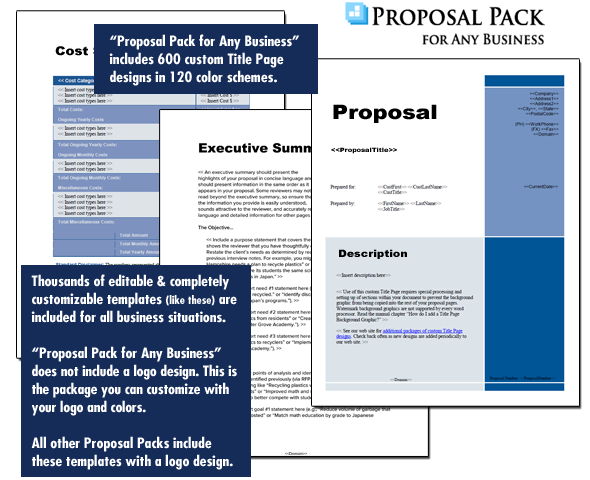 A proper business proposal will include multiple chapters. This is just one of many chapters that may be included in your proposal. The complete fill-in-the-blank template is included in our Proposal Pack template collections. A variety of sample proposals illustrating how companies in different industries both large and small have written proposals using our Proposal Packs are also included. This template will show you how to write the Cover Letter (Business Plan).
A wide variety of chapters are included and are intended to be picked based on your needs. All proposals are different and have different needs and goals. Pick the collection of chapters from our collection and organize them as needed for your proposal. Recommendations and samples provided are only intended as general guidelines.
Using the Proposal Pack template library you can create any kind of business proposal, report, study, plan or document
such as these
.
Writing the Cover Letter (Business Plan) document
Current date First name Last name Job title Company name Address
Address City State or province Zip or postal code Salutation Last name Briefly introduce yourself to the lender Briefly describe your business strategy and why you are submitting the business plan funding proposal here. Describe the amount of funding you are requesting. Briefly describe the benefits to the lender whom you are asking to fund your business such as the bank or investor you are submitting this to. Show positive return on investment or other tangible benefit to the lender. There are many detailed financial documents that you can submit within the proposal itself to expand on this such as Cash Flow Analysis Budgets Profit and Loss Statements etc. Briefly state your unique selling proposition and provide positive and upbeat statement about the future of your business Add call to action statement asking the lender to review your attached proposal. Sincerely
First name Last name Job title Company name Phone number E mail address Web site domain URL
A Document from Proposal Pack

The editable Cover Letter (Business Plan) template - complete with the actual formatting, layout and graphics is available in the retail Proposal Packs.