This chapter template is included in every Proposal Pack along with thousands more chapter templates.
Order and download for $79.

DOWNLOADABLE, ONE-TIME COST, NO SUBSCRIPTION FEES
The Conservation template is used to outline any conservation issues related to the proposal, such as environmental, energy, resources, etc.
I've been designing web sites and templates for some time now, and thought that this was just a natural fit to add to my product line due to the quality of "packs" and the type of service and support that Proposal Kit provides. Add these packs to your design arsenal to add that extra fine "touch" to your proposals. A perfect addition to the proposal kit as well which is "a must" for the serious web developer."
Brandon Tisherman
Creative Director
Web Blends, LTD.
Produced by:
Proposal Kit
Category:
Software › Computer Software › Business & Productivity Software

4.9 stars, based on
824 reviews
Related chapters may be used in conjunction with this chapter depending on your situation. Many related chapters are intended to be used together to form a more complex and integrated proposal.

Related Chapters: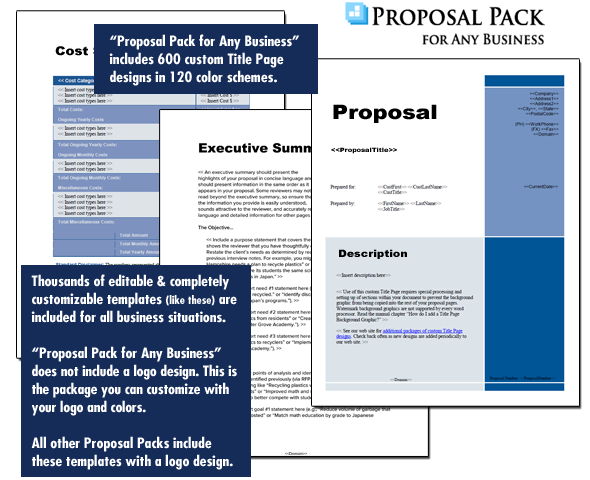 A proper business proposal will include multiple chapters. This is just one of many chapters that may be included in your proposal. The complete fill-in-the-blank template is included in our Proposal Pack template collections. A variety of sample proposals illustrating how companies in different industries both large and small have written proposals using our Proposal Packs are also included. This template will show you how to write the Conservation.
A wide variety of chapters are included and are intended to be picked based on your needs. All proposals are different and have different needs and goals. Pick the collection of chapters from our collection and organize them as needed for your proposal. Recommendations and samples provided are only intended as general guidelines.
Using the Proposal Pack template library you can create any kind of business proposal, report, study, plan or document
such as these
.
How do you write a Conservation document?
Conservation of insert what you are interested in conserving here is of key importance to Company name. Company name has identified the following ways to improve conservation of insert what you are trying to conserve here Outline all of the concerns related to the project and how their effects will be reduced eliminated or repaired over time. The most common conservation projects will be related to the environment energy water or other resources; or even heritage. Outline the benefits of the conservation effort such as ecological and economic benefits. If this project will or may have an effect on the environment outline the environmental impact studies here. If there are concerns about the working environment such as hazardous conditions outline them here.
If there are issues with future cleanup required at the job site after the project has been completed outline them here. Some government grants such as those for the EPA could request very specific information about environmental concerns related to the project. If this is the case provide that information here per the specifications of the RFP. Consider also adding the Environmental template.
A Document from Proposal Pack

The editable Conservation template - complete with the actual formatting, layout and graphics is available in the retail Proposal Packs.